Today I will show you Best Custom ROMs for Android. Custom ROMs can enhance the interface and performance of Android. Even the custom ROMs help us to change the looks of Android and provide us new interface while using the smartphone. So guys in this article I will tell you some best custom ROMs for Android which help you to change the look of your smartphone. This article is about top best custom ROMs for Android users. In this Article, we will also talk about how to flash customs ROMs and top custom ROMs which you will you need to flash on your android device at least once. There are many ways available for customize Android like with the help of Gravity box etc.
Best Custom ROMs for Android
An Android is a modern operating system for the smartphone. Most of the people are using Android phones. Some users also love Apple iPhone, but There are a large number of Android users. Because of their price and customization, according to me. I love android phone because I love to customize apps. I love to install new apps on a daily basis playing different games on my smartphone which are not possible on ios and another operating system. Some people also change fonts in Android or change boot animation etc for get new feel in it. Sometimes we get bored from stock RROMwhich is having, not good interface, even we get bored by applying custom themes again and again on our Android phone, So I will prefer we need to try some custom ROMs which helps to get different experience while using our phone.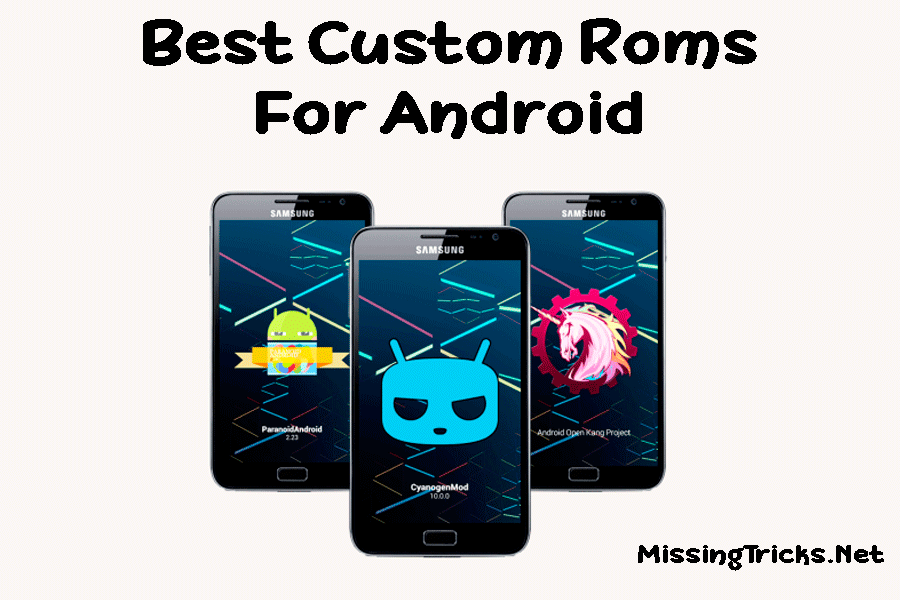 Top Best custom ROMS (Quick Look)
Top Best Custom Roms For Android
There are many Good Custom ROMs Available for Android Devices; We have tried out lots of Custom ROMs for Android Devices. We have found some of the best Custom ROMs for Android. Which we have explained below. We have also explained the features of each and every custom ROM along with Screenshots. So let's have a look at best Custom ROMs list now from below and enjoy it.
---
#1 CyanogenMod
CyanogenMod OS is popular and favorite custom ROMs for Android users. It is the one of the best custom ROMS for Android user who wants to take some different taste. CyanogenMod ROM can change the Whole look & feel of your Android device. It helps us to change the interface of the smartphone. The CyanogenMod has own compony in which they making custom ROMs for Android and sharing with us; you can find  CM ROMs for your device easily by searching on google if the CyanogenMod custom ROMs is not available for your device then try out another ROM.
Top Features of Cyanogenmod Custom ROM
Awesome Themes Support.
Advanced Customization Options.
Smooth and no Lag at All.
Screenshots of Cyanogenmod ROM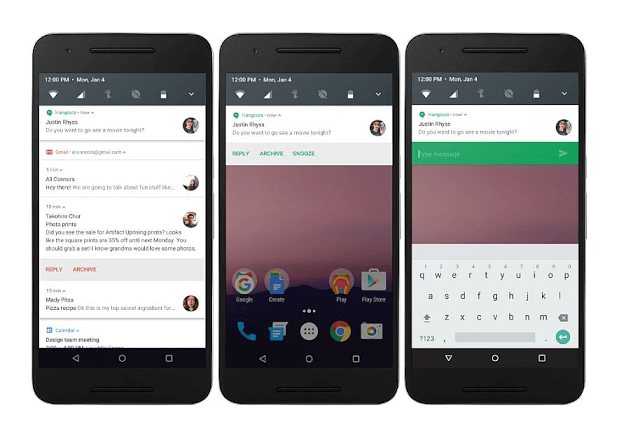 ---
#2 Paranoid Custom ROM
Paranoid custom ROM for Android is another favorite Rom which helps you to change the interface of your stock Android phone. It is the second one great custom ROM which can replace the CyanogenMod ROMS. Paranoid Rom has a beautiful interface and unique features, you can change the whole look of your smartphone by flashing this ROMS. The best thing about the ROM is, you can customize everything off your Android phone, it has some cool features like Hover notification, the cool immersive mode which helps you to hide your status bar and notification bar. The Rom is available for some device like Nexus, Oppo, and one plus smartphone, if your device is not listed then you try to search on XDA forum.
Paranoid Custom ROM Features
Hover Notifications.
Immersive Mode.
Navigation Bar Pie.
Dynamic Color Change of Status Bar.
Theme Engine.
Screenshots of Paranoid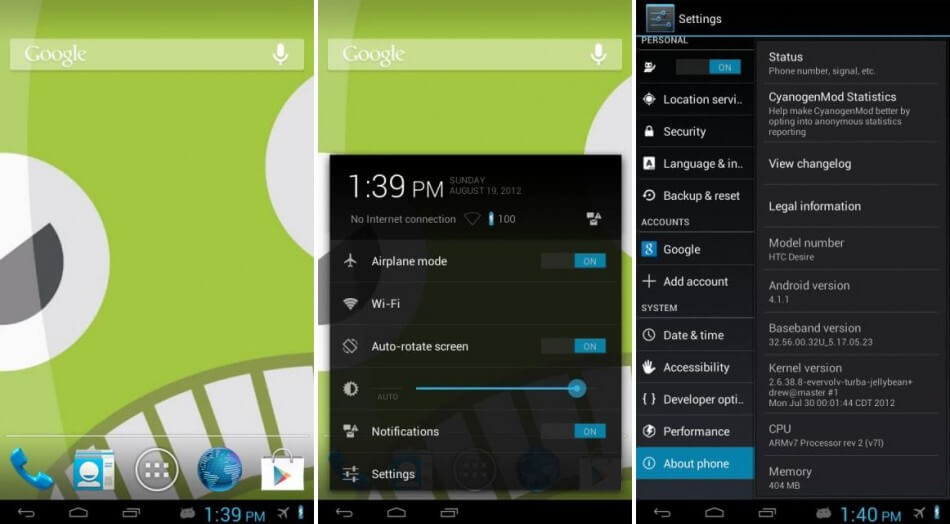 ---
#3 MIUI Custom ROM
Hey, it's another excellent custom ROM which is popular now a day,  MIUI is the ROM which makes your smartphone look different from another phone. I am using MIUI ROM in my Xiaomi Redmi Note prime, and its functioning is too good. The best thing about MIUI ROM is, it enable us to change the whole look of the Android device and provide us better user interface. Miui offer 1000 + themes for its miui user which help us to change the entire interface of Android. Some people says that the MIUI ROMs are similar to IOS device, but I think ios is not better than MIUI. Thanks for Xiaomi company who Developed this ROM for other Android Devices. If you love this custom ROM then search on google, and I think if you install this ROM you will not love any other ROM.
Features of MIUI
Highly Customized.
Scrolling Screenshots.
One-Handed Mode.
Inbuilt Antivirus and Security.
Screenshots of MIUI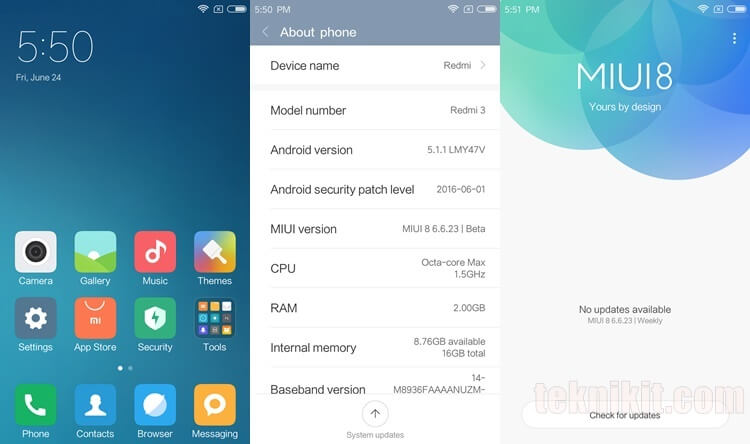 ---
#4 Resurrection Remix
Resurrection Remix is another popular and stable ROM, The best thing about the ROM is it is cleaned and regularly updated ROM. Resurrection Remix ROM lets you personalize each and everything about such as lock screen, notification drawer to navigation button animations, etc. I personally love this ROM because customization is available for users, even I have flashed the ROM on my Xiaomi device, and I feel that its one of the best ROM for Android Lover. I will recommend you to install this ROM on your device at once a time.
Resurrection Remix Official Site
Screenshots of Resurrection Remix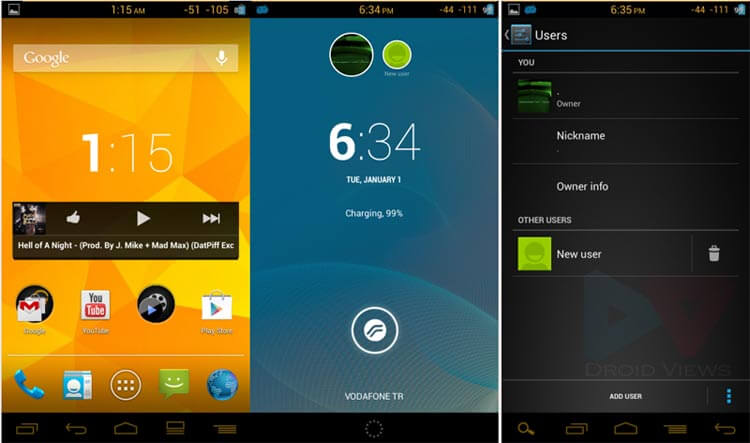 ---
#5 Dirty Unicorns Custom Rom
The Dirty Unicorns ROM has a power of customization and some unique feature which is not available on any other ROM. The dirty unicorn ROM has lots of features like double tap to wake up and lock screen; it's another excellent and useful feature for Android users who want to wake up their device by double tapping on the screen. It has omni switch Floating toolbar even you can disable immersion mode messages, expand power menu also ad blocker feature is available on dirty unicorn ROM. The marshmallow based Rom include CM theme engine which enables you to make your theme. So guys if you get bored from your stock ROM then you can flash it for best performance.
Screenshots of Dirty Unicorns
---
#6 Cataclysm
It is another popular Custom ROM but not popular as CyanogenMod; you can flash this awesome ROM on your device. The ROM has more features like the Quick torch, immersive mode, start timeout, App stops, SmartRadio, in call blocker and so on features are available in cataclysm ROM. The best thing about this Rom has provided advanced reboot menu. I will strongly recommend you flash this custom ROM at once a time on your Android device.
Screenshots of Cataclysm
---
Requirement for Install Custom ROMS on your Android
Custom Recovery installed – How to Flash Custom Recovery on Android.

The phone should be charged up to 70-80 % according to me your phone must be charged.

Rooted Android phone – How to Root Android Without PC.
Must have experience in Android few months.
How to flash custom ROMS on Android device
Before talk about best custom ROMs, we need to learn how to flash custom ROMs on an Android device without getting any problem and also we will talk about some requirement so let dig into this.

First of all your Android phone must be rooted, if not then Root your smartphone then think about flashing custom ROMs.

After Rooting your device checks the root permission by downloading the Root Checker app from play store.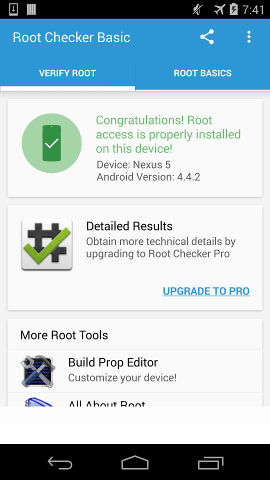 Now you need to install custom Recovery like CWM, TWRP

 

for installing custom ROMs, You can find custom recovery for your device by googling and then

 

flash custom recovery Zip, After successfully flashing custom recovery simply reboot your device.
Now you need

 

to install custom ROM, You will need custom ROMs like CyanogenMod, Paranoid

 

likes Roms

 

and then flash it
If you want to learn proper guide for installing custom Recovery and Rom visit this link – How to Flash Custom Rom on Android Full Tutorial.
Final words
So guys we have mentioned almost all best custom ROMs for the Android device. These Rom help you to change the whole performance and interface; custom ROM has lots of feature such as notification bar, status bar hide, battery saver, immersive mode and so on features. Some rooms will increase the battery life, and some will help you to change the interface and looks. I hope you guys this article and thanks for visiting my blog SoftBigs.