Wifikill IOS
Hey Guys, If you have iPhone Device, and you are looking for a Way to kill WiFi Connection of your Friends / Family members With iPhone, then you are at Right Place. I will Guide you, how can you Kill WiFi Connection of anyone with the help of IOS Device. Previously, I was shared method for How to Kill WiFi Connection with Android Device. wifikill for iphone is developed now, for Kill WiFi Connection easily from iPhone devices. Killing WiFi Connection in Android device is a Lot Easier. If you don't Have Android device, and  you want to kill WiFi connection with iPhone, then you can simply follow below tutorial for Killing WiFi Connection from iPhone IOS Device easily with the help of this WiFikill IOS Tutorial.
Why We Should Use WiFi Kill IOS Guide
If you are using WiFi Connection in your Device, and WiFi Speed is very slow due to some other users are using it. WiFikill IOS app is created for Cut WiFi connection of all other people, who are connected to same WiFi Connection, and you speed is slowing down because they are also using data from your WiFi. If you use this WiFi kill app in your iPhone Device, after jailbreak, you can Kill WiFi connection with this awesome app, and other person will not able to use WiFi Connection. Also checkout IDM portable for Pc. This app snoof devices, that they are not getting working internet connection, and that devices will not use Data from WiFi anymore. All other persons, who are connected to same WiFi Connection,  Will be stay connected to WiFi, but they will not get speed in their Device. and you can enjoy High speed usage of WiFi in your Device like a Pro. Checkout Full Step by step Guide about how to use this WiFi kill IOS app for killing WiFi connection of others. also check WiFiKill for pc.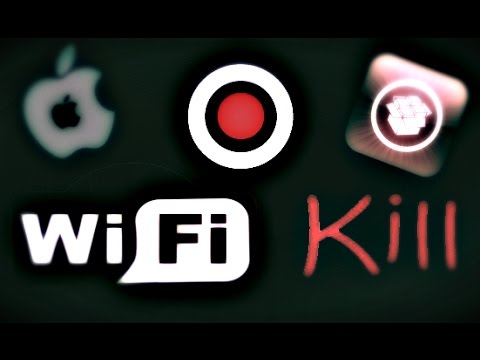 General Question, Which you should ask to me In Comments
Q1) wifikill for iphone without jailbreak / wifikill for ios no jailbreak is possible ?
A) No, It's Not Possible to Kill WiFi From iPhone Device without Jailbreak It.
Requirements Before Kill WiFi From IOS Device
iPhone device Must be Jailbreak Before Using This app.
You Must Installed Cydia in your iPhone Device.
So Guys, these was the some basic requirements, for kill WiFi Connection from your Android device. if you want to kill wifi connection of others with your device, then you must be already jail breaked your iPhone. If you have above mentioned things setted up, checkout below guide.
How to Kill WiFi Connection with WiFi Kill App (Wifikill IOS)
If you are looking for step by step guide about How to Kill WiFi Connections from Android device, then simply follow steps from below, this will help you to kill WiFi Connection of your friends easily in just few clicks, here you go.
At First, Add this Repo to Cydia – http://extigy.github.io/repo/
Now, Install netKillUIbeta in Cydia, With all of it's dependencies.
After that, You will see netKillUI app in your Homescreen, simply open that app.
Now, You will see some options here, swipe down to this app, and you will see some options of IP Address.
Now, Select IP Address of device, which device's WiFi you want to kill. You can Identify IP Addresses of other devices with the help of Fing app, which you can install from IOS Store.
After Select IP Address of device, in which you want to kill WiFi Connection, click on "Kill" Button and you are done.
Now it will successfully Kill WiFi Connection with iPhone device. For Stop WiFi Kill app Effect, simply click on Tap to stop all arpspoof processes option and you are done. I know, this Tutorial is Confusing, So checkout Video tutorial now from below for checkout how to kill WiFi connection from iPhone / IOS device.
Video Tutorial on WiFiKill IOS App
Final Words
So Guys, this was the Latest Tutorial on How to Use WiFi kill on iPhone Devices. This is the Latest and Working way for Kill WiFi Connection of Friends or anyone and they will not able to use Data from WiFi. Also Checkout How to Stop Background apps in Android for Speed up device. So Must try this Tutorial once for Kill WiFi Connection of your friends / Family with IOS Operating System / iPhone device. Stay tuned here for more cool stuffs like this. Thanks for visiting.