Android Screen on Volume Buttons

Turn on phone screen by volume keys: Hey Guys, In This Guide I will tell you about How can you wake up your android device screen with volume buttons. If you have one android device, and power button of your device is broken or not working properly then you can use this simple app.
Also have a look at best apps for rooted Android. This Simple app can fix your android device power button issue. There are some android devices have inbuilt feature of unloking android by press volume keys, but most of the android devices doesn't have this feature. Don't worry, you can add this feature in your existing android device with the help of simple android app which is described below.
You can Actually Turn on your android device's screen easily with the help of simple android app which is described below. This app is one of the best app which you should install in your android device if power button of your device is broken. The Best Thing is, this app doesn't need any root permissions to work.
So Simply use this app and click on start button and it will allow you to unlock your android device via Volume Keys. If Power button of your android device is not working properly, then there are lots of other ways to unlock it like plug it in charger or to pc via data cable, it will turn screen on etc. But every time you can not turn on your phone's screen via charger etc.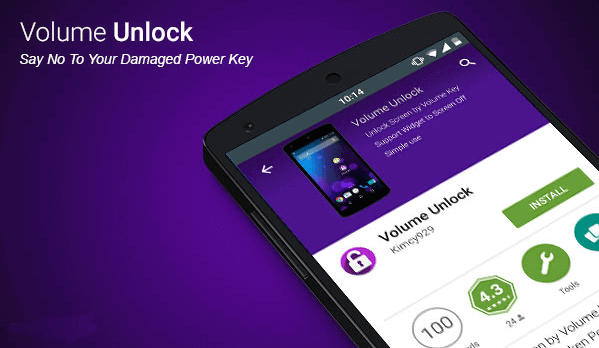 Steps for Wake Up Android Phone Screen With Volume Buttons
For Unlock your android phone with volume buttons, simply follow the below easy steps. After following these steps, you will be able to unlock your android phone's screen with the help of volume buttons. So Checkout the guide and don't worry about the broken power button in your android device :D.
At First, Download and Install this Volume Key Unlocker app from Play Store
After Open This App, Click on Enable Volume Power which is the first option in this app and enable this option from the app.
After enable it, You can Turn Your Phone's Screen off and you can turn it on with the help of volume buttons of your android device.
You can also click Start On Boot to run this app every time when you restart device. (Highly recommended)
You can also uninstall this app to disable this function from your device. There is an Option to uninstall this app from the app itself.
This app is the best for wake up your Android phone with volume buttons. There are some other apps are also available like this on Google play store which you can check. But according to me, this is the best app for do the job. One of my friend's mobile's power button was bricked. Then I suggested him to use this app until he got his phone repaired. He tried and used this app and found this app very helpful. That's why I have shared this app with you.
Final Words
So Guys, This was the way which you can use for unlock your android phone via volume buttons easily. You can use this app in your both rooted & Non rooted Android devices. This trick will work in many Android devices. You can try it out on your phone and let me know via comments below if it's worked for you or not. If you have any more questions regarding this guide then simply try to comment below, I will try to help you out. Stay tuned at our blog Missingtricks for more cool tips & tricks like this.