This copy of windows is not genuine
Hey Guys, Sometimes you may face"This Copy of Windows is not genuine" error when you install windows 7 on your PC. This error comes because, you may installed cracked version of windows 7 in your pc. Or it's maybe because your Windows 7 License is expired. So in this post, i will tell you solution for how to fix windows 7 not Genuine error in build 7600 / 7601 or in any other Build. Also see how to Create Fake Pc Virus for prank with friends. If this error coming on your pc, then you will see this copy of windows is not genuine error, & your screen background will go to black. This Tutorial is for windows 7 ultimate genuine fix. If you have Windows 7 Installed in your PC, and you are getting This copy of windows is not genuine error in your Windows PC, then don't worry. I have mentioned step by step guide for Fix Windows 7 Genuine error, which is mentioned below.
This Copy of Windows is Not Genuine
In This post, you will get solution for This window is not genuine error in Windows PC. As you know, real Window's Price is too high. Everyone can't buy Windows for PC. So if you have installed, Windows 7 in your pc, then it will give you 30 day time to activate windows 7 via key. if you don't add windows serial key within 30 days, then you will definitely see this error. I have tested this Tutorial in My PC, and i have found that this is completely working fine. You will be easily able to remove this copy of windows is not genuine error in your Windows 7 PC.
---
We highly recommend to your that Read this guide for educational purposes only. Please don't misuse of this Guide.
We have added best method for fixing This error. This will take only 10 seconds to fixing up this error. Checkout that method from below. you just have to run one Command via Command Prompt in your Pc. it will fix your issue like Magic. Check that out now from below. also read more about this on Cnet Forum.  you may get more information about this error from there. you can also ask your questions on that forum, they will help you. or alternatively, you can also comment below. i will try my best to help you out.
If you have given your PC to a Computer repair shop, for Install new windows, then it's very important that you should check your PC once, that if there is Not Genuine error or not. If error is there, then ask them to fix this error. If you have installed windows from yourself , then you can follow below easy Guide for Fixing Up this error, in which you will see that it will show that your Windows 7 is Not Genuine. So this is the easiest way for how to make window 7 genuine.
Problems you May Face While Windows 7 Not Genuine Error
You Will Not able to Choose Background Wallpapers Anymore, Without any Good background / wallpaper, Computer is nothing, so you will miss customization in your PC.
Every time, when you will start Computer, you will see this error or Windows 7 Is Not Genuine, you need to click on ask me later button, which is very irritating.
Your PC Performance will reduce, & Some Windows Services will stop working, so you will not be able to enjoy full features of your WINDOWS PC.
& Some other issues.
Disclaimer – I Don't Suggest you to Use Free Version of Windows PC. Always Use Original Version of Windows & Developers Deserves It.
You may also Like
How To Fix This copy of Windows is not genuine Error
If you are facing this This Window is Not genuine error in your Pc. then You can follow below methods & fix it. So here are the few steps, which you can follow for fix up windows 7 genuine error in your PC. In below steps, i am going to describe Best one method, for Solve this error. it's a very simple process, which will work like charm for you without any issues. Just, follow all of the below steps carefully. you will be able to solve your Issue for sure with this method. i have also tried this method, & it's worked for me pretty well. so check that out now. So Checkout Step by step guide now from below for how to make windows 7 ultimate genuine.
At First, Press Windows Key from your PC & Type – cmd In it & right Click on it, Select Run as Administrator.

Now, It will open Command Prompt in your PC, Just type SLMGR -REARM in it & Press Enter Button.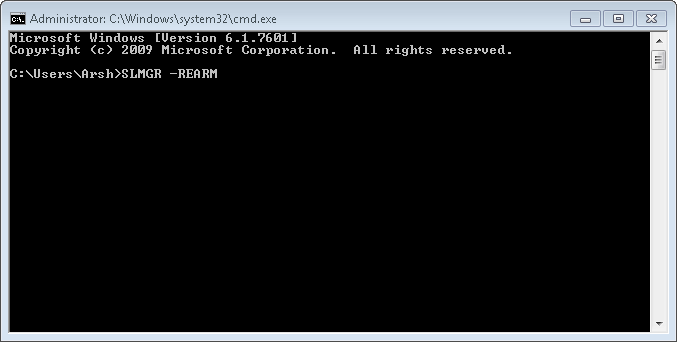 Now, Just wait for 10 Seconds. It will show you a success message, just like screenshot below. Now, Just Restart your Pc normally. you will no longer See Windows is Not Genuine error in your Pc.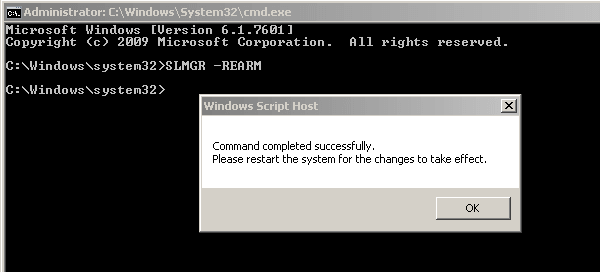 So, Right after reboot your PC, you will see that, Windows 7 Not genuine error has been fixed now. Enjoy your PC without having any kind of errors. as like screenshot below.
Sometimes, you may buy real genuine version of Windows, then you may face this error, even after entering the Serial Key in your PC. so, in this case you can follow all above method & use it. If you are using non genuine version of windows, then i will suggest you to buy new windows 7 from a Shop or online. because development is not easy, it takes much time & money. so you should spend money on windows, developers deserves that money. You can now make win 7 ultimate genuine with Simple Steps, which i have mentioned above. Also have a look at How to Set Shutdown timer in Windows.
Now, After following the above guide, you can really enjoy your windows 7 without having any not genuine error .this is the very good trick, for fixing up the error of windows 7. there are also some other ways, which you can use to fixing up this error, but that ways are not good enough. this is the best and 100% working way for fixing up the windows 7 not genuine error. So after following the above steps, not checkout below steps and follow them for permanently fixing up this error. We was also shared a method for Enable Chat Heads in Whatsapp, also check that out.
Alternate Way to Fix  this copy of windows is not genuine error
At first, Open Control Panel from your Pc, from Start – Control Panel

Now, Goto Windows Update section, like screenshot Below

Now, In This page you will see many options, in bottom left corner, you will see a option of Installed Updated button, like screenshot below, Just Click there.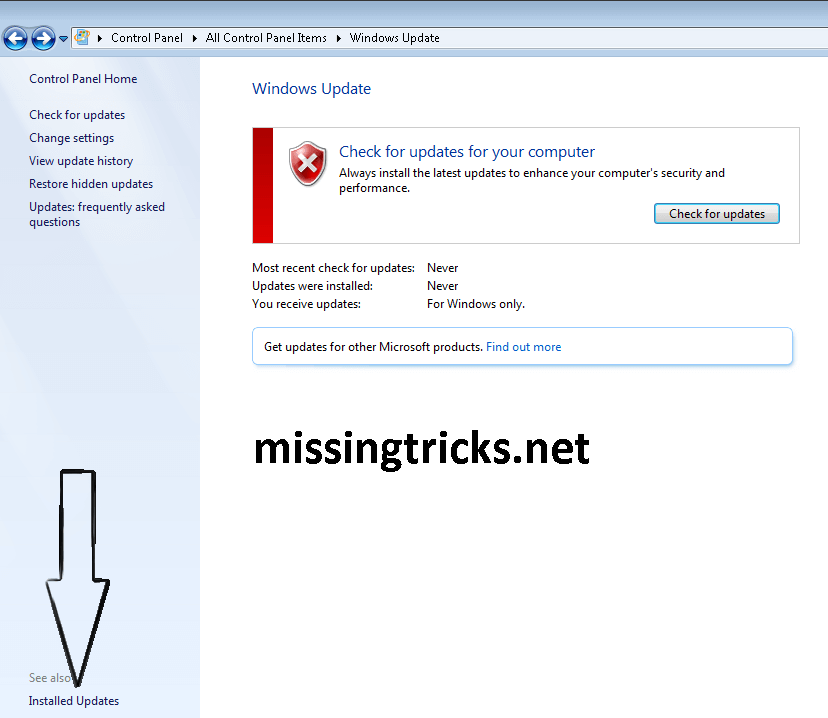 After that, It will show you Searching for Installed Updates, Wait for about 1 minute , and it will show you list of installed updates. then look for KB971033 , Right click here and select Uninstall Button.

Now restart your Pc, if it's not automatically did, and you are done! You will no longer see Windows 7 Not Genuine error in your Pc.
If you are still Getting this error, Then you must reinstall Windows from Microsoft. Also have a look at How to Stop background apps with the help of Greenify app.
This copy of windows is not genuine
Also there are some other Methods, which you will find on other blogs, like using Keygen etc. but that methods are not so Good & easy. This is the easiest method ever to Fix this windows is not genuine error. So now, you know how to fix This copy of Windows is not Genuine error. Always, while buying New pc, or if you repair your windows pc & installed fresh windows 7 in it. Then you may face this error. This is very common error, which anyone can face in PC.
It's very easy to fix this window is not genuine error. If you are using 7 build 7601 in your pc, then after using it for one month, you will start getting error of this copy of windows is not genuine, so yo need to fix up this error, for continue enjoying your Windows 7 Pc. This error come because, windows OS is not free for use. you need to buy legal serial key, for fixing up windows 7 not genuine error. There are the number of ways, which you can checkout for fixing up this error. Now you will no longer see windows 7 ultimate not genuine error in your PC.
Final Words
If your problem solved from this post, then please share this post on Social Media. This will help us a Lot. Thanks for visiting & keep visit here for get more cool stuffs like this ! So This was the best new method, fir fixing This Copy of Windows is not Genuine error. Thanks for visiting and keep visiting here for find more cool tricks like this – Missing Tricks