Money View is a android app, which Provides easy to manage your Money Service. This app, will show you your bank balance & much more things, in this app you can manage things, which is to money. This app will work on automatic basis, you don't need to enter your data in this app. It will automatically fetch messages from your phone, & show you your bank balance, credits, debits etc. overall it's very good android app, which you can use in your phone. this app have started a refer & earn program, in which you can install this App & earn ola cabs vouchers. check it out.
How to Sign up at Money View app & get 100 rs Ola Cabs Voucher + Refer to Earn more
At first, install Money View app from Play Store – Play Store
Now, Open app & Sign up with new account, You can login via Gmail account
Now, it will open main screen of the app, Click on Top Left Corner from this app & Select Refer and Earn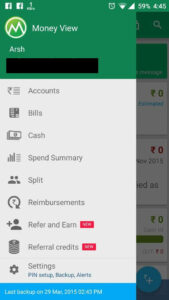 Now, you have to verify you mobile number from here via otp code
Now, select REFERRAL CREDITS option & enter below refer code for Get instant 100 rs ola cabs voucher
Refer Code – KONAKVLJ
Now, you will get Free 100 rs ola cabs  voucher from here, use it in Ola Cabs app & Get 100 rs Discount on your Booking

Refer More friends for earn more Free vouchers, You can earn maximum 10 vouchers from one account.
Latest Giveaway of 11 Coupons 😀 – Each Coupon Value is 100 rs, Use on Ola Cabs app
MVOLAWDHKQ2V5ZP
MVOLAJP23XW758D
MVOLAMW2Q0MVRPQ
MVOLA58HPD2VRXW
MVOLA8F9RDP020F
MVOLAMW2Q0M89XM
MVOLAPDHRQ2VXTA
MVOLAPDHRQ2VXTA
MVOLADPW3TFX87M
MVOLA089RDWXVJV
MVOLA28HRDW5D0H
Giveaway of 11 Coupons  (Expired)
MVOLA28HRDWXRV7
MVOLAVD9RQWX2HF
MVOLARDHKQ2V981
MVOLAXD9RQW02R2
MVOLAXD9RQW02FT
MVOLAK29QXKJ9V9
MVOLA28HRDWXWDT
MVOLADPW3TFXFHX
MVOLA189KDWXWJ5
MVOLAWDHKQ2V2FW
MVOLAAPWD0VJF07
Giveaway of 16 Coupons (expired)

MVBONANZA00006090
MVOLA8F9RDP09RM
MVOLATD9RQWV95K
MVOLAK29QXKJ9KR
MVOLA8F9RDP09JV
MVOLADPW3TFXZT1
MVOLAVD9RQWXP2Q
MVOLAJP23XW7T5M
MVOLAPDHRQ2VWK3
MVOLARDHKQ2V9RQ
MVOLA28HRDWX92Q
MVOLATD9RQWV2ZQ
MVOLAJP23XW7HR0
MVOLATD9RQWV8HX
MVOLAZD9RQWX9MP
MVOLATD9RQWVP8M
Giveaway of 20 Coupons By Missing Tricks 😀 (Expired)

MVOLA58HPD2V7R2
MVOLA28HRDWX7VR
MVOLA789KDWXM0H
MVOLAPDHRQ2V17Q
MVOLA3F9K8WXMQH
MVOLAFPW3T8XVM9
MVOLA3F9K8WXMKD
MVOLARDHKQ2V1WM
MVOLA8F9RDP0MQT
MVOLAPDHRQ2V193
MVOLAQ89KDWX7PZ
MVOLA8F9RDP0M9PP
MVOLA98HRDWX77PP
MVOLAHP23VW711AA
MVOLARDHKQ2V1A8
MVOLARDHKQ2VHQD
MVOLAMW2Q0MVXR7
MVOLAXD9RQW08WK
MVOLA28HRDWXFQX
MVOLAXD9RQW09VF
For get your Voucher, Goto Referral Credits option, from top left corner of the app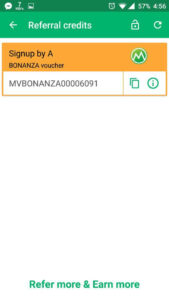 Also Get a chance to win NEXUS 5X for refer your friends
Thanks for visiting & Keep visit here for get more cool tricks like this.