Aircel data share
Aircel 3G Data Sharing: Hey Guys, Previously We was shared Airtel 3g / 4G Data Share Offer, Now Aircel Data Share Service is on. In which you can transfer Aircel 2g 3G 4G Data Packs, from one Sim Card to Another. Aircel is from one of the Top Indian Telecom Company, In which they allow Their Users to share Data packs Now. If you have Some extra Data packs in your Sim card, then you can just simply share it with your friends / family and let them enjoy your data packs with this Awesome data pack sharing Service by Aircel.
Also see – How to Check Own Mobile Number
Aircel 3G / 4G Data Pack Sharing
This Service of Data Share, is recently Started by Aircel Exclusively. After Airtel, Idea and Now Aircel have started this Service. This is the new service, which is Just launched by Aircel, For their Users. Before, you was able to Send Main Mobile Balance, from one Sim card to another. but now, World is changing, everyone want new tricks, so Aircel have also started data pack share Service. also checkout Aircel 3gb 3G Data Trick. you can find full Details about this offer from Below. So let's check that out ! nowadays, Aircel is also giving lots of opportunities to their users, for sharing their data packs with friends, like what Airtel, and Idea did in last few days. i am sure you have seen airtel advertisement on television, for sharing data packs, so aircel is also started this service in some states, not in all states yet. you can check it out on your state once.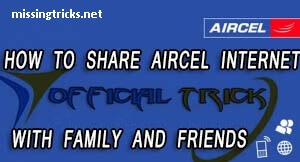 Note – Aircel Data pack share Service is not Activated in Some of The States, So Give it a try for sure.
Requirements Before Share Aircel 3g Data With Friends / Family
Aircel 3G or 4G Sim Card, if you haven't Activated 3G in your Aircel Sim Card, then Just Type START3G and send it to 121
Know More About Activate 4G In Aircel Sim Card.
Enough Data pack for Share with your Friends or Family. Must Be 3G or 4G, Not 2G, if you don't have data pack already , then activate data pack from your phone, by dialing *121# and check data balance with *133#
Mobile phone, from where you will dial these USSD codes for share Data packs.
Ready with these things? here we Go !
How to Activate Aircel Data Share in Your Aircel Sim Card & Share 3G/4G Data
For Activate Data Share Service in your Aircel Sim Card, then Just you need to dial *121*776# from your Aircel Prepaid Sim Card, then it will show you a Welcome Message.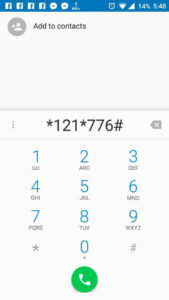 Now, Add Number of your Friends or Family, in your Aircel Sim Card Data Pack Share Service, And Press ok Button
Follow On Screen Instructions, and you will be Successfully able to Transfer Data from your Aircel Sim Card.
I am not able to provide you detailed instructions, because these services are not yet activated in My State (Punjab) So Try in your state and feel free to comment your guide.
Also see – Airtel balance Transfer USSD Code
Terms & Conditions for Share Aircel Data Pack
Data Share Plan allows one to share data between 7 members. Adding of child accounts – upto 6 numbers can be done only by Parent Subscriber.
Master Subscriber called "Parent" can buy any of the above "Data Share Plan" and can add up to 6 Child accounts via USSD mode and the Data gets shared between the family/friends.
USSD Code *121*776# can be used for the following options à To be a Master, To add child, To check Data Balance, Delete child, List of child, Un-Tag with Master.
also see – Aircel 1GB 3g Trick
Child subscriber will not be able to use the services if Parent subscriber does any other recharge (Other than Family Pack Recharge).Child subscriber can recharge with other top-ups/STVs.
Child subscriber will not be able to use his existing data pack benefit or new data recharge benefits till the time detached from parent account.
Adding/deleting of child account will be charged from parent account. Addition charges of Rs.15/number and deletion charges of Rs.5/number applicable.
Minimum threshold of 3 days for removing child account from the date of addition to parent.
So now, Share Data pack with your loved once in minutes, and let them also enjoy your data packs. Some 3-4 friends can get big data pack in cheap price, and later you can share with your friends, and overall it will save your money on data packs. this is the wonderful service by Aircel, for sharing the data packs. Let's have a look at this once, and now be smart and save more while using data packs from Aircel, This was the latest Data pack share aircel service !
Final Words
So Guys, this was the Another Good Service by Aircel, for share data packs with friends or Family. You can Easily Share Data packs with your Friends. Aircel have recently launched this service, hence full details are not available. still we have shared this service by Aircel for you guys. I Hope you like this Aircel feature, and Find this Post Helpful. Keep visit here find more deals like This. Thanks for Visiting. | Aircel Data Share