schedule download android: Hey Guys, If you want to download a file at Specific Time automatically on Android. then you are at right direction. In this post, I am going to post step by step tutorial which you can follow for schedule Downloads on your Android device. There are many Android apps available which you can use for schedule download on your Android device. We have tried many methods for Download a file at certain time automatically on Android. We have found one of the best way to do it. Previously, We was also posted how to increase download speed on Android. This trick is only for Android devices currently. You can schedule Downloading of any file at certain time on your Android device without any issues.
If you wonder why this download scheduler will be useful, then let me tell you. If you are using Mobile data, it costs a lot in comparison to WiFi right. If you want to download some big files, you can simply Buy Night pack, which is very cheap in comparison to day data pack. After get night pack, you can Schedule downloading at night, you don't even need to wake up at night for use your night pack, pretty cool trick right? You can also use this trick of schedule downloader for android for save your money, time. Now download files in more smarter way, Simply Schedule downloads on your Android device and enjoy this Download scheduler for your Android device.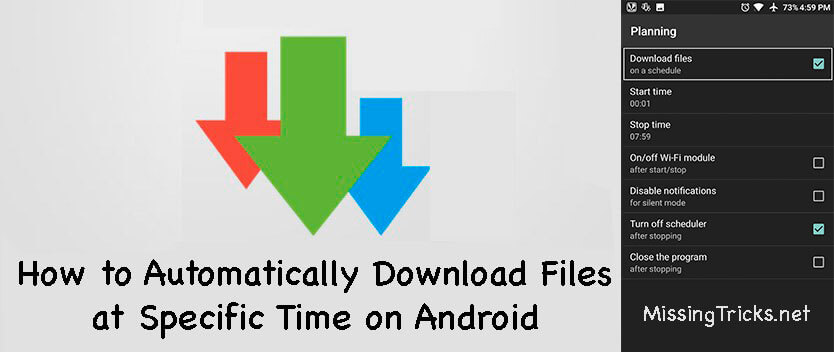 How to Schedule Download on Android
In these steps, we are going to use app called Advance Download manager for Android. This is one of the best Download manager for Android, Which you can use on your Android. This download manager also supports parallel Thread downloading, which download a file in multiple parts for speed up the downloading speed and save your time. Also have a look at Best Hacking apps for Android. So Simply follow some of the simple steps now from below for know more about how can you schedule downloading on your Android device. You don't need to use any kind of full of ads download scheduler apk, simply use your favourite download manager which is ADM for this trick.
At first, Download Adm on your Device from ->    Download
After Download and Install Advance download manager on your Android, Simply open it.
Now you can add download link of your desired file in this Download manager from + Icon.
After that, Pause your Download once it started. You can pause your download by click on file name once.
Now Swipe from left to right in this app and goto Settings -> Planning.
Now Click on Download Files button, Select start time and stop time from here of your download.
This download manager will automatically start downloading at Certain time, now you don't need to worry about starting your download.
Final Words
So guys, this was the one of the best way ever which you can follow for Schedule downloads on Android device. If you have any questions regarding this tutorial, then simply comment below. I will try to help you out. Thanks for visiting this blog and stay tuned for more cool tricks like this. Enjoy scheduling downloads on your Android device and stay tuned at this blog for more cool tips & tricks regarding Android.