Want to Save YouTube Videos to Google Drive? You can now save YouTube videos to Google Drive in few clicks. YouTube, Perfect Website these days for Watch online Videos. There are many people these days creating own YouTube channel and working hard to earn from YouTube. Many people are earning Millions of $ from YouTube these days, but it takes years of hard work to make this much from YouTube. Many YouTube tricks are coming these days like Ogyoutube app for watching YouTube videos in the background and much more.
If you have Uploaded your Video on YouTube, and now want to share it with other people except YouTube, then what will you do? Well, you have to download your YouTube video first, then upload it on some other file hosting site. This will be a long and boring task right. So in this Video, I will explain a simple way which you can use for saving your YouTube videos Directly to Google Drive and then Share the link with others. I was also posted a Guide on How to Block youtube ads on Android, Don't forget to check it out.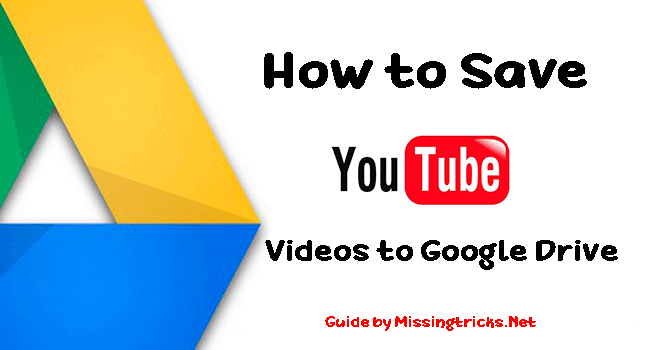 You can Manage your Youtube videos from My Videos Section in YouTube. There is no Video download available in YouTube Yet, seems YouTube want visitors to come back to their website again and again for watch videos, listen to songs. So If you have Uploaded some videos on YouTube, then you can save to Google Drive with simple trick / method Which I have explained below. No matter what's the size of your Video, it will save it to Google drive, and you will be able to your Google Drive and manage it later.
How to Save your YouTube Videos to Google Drive
Must See – How to Play YouTube Videos in VLC.
There are many Methods available for Save your YouTube videos to Google Drive. The first method is official one with the help of Google Takeout and the second method is via Google Chrome Addon, but we are only explaining method about save youtube videos to Google Drive via Google Takeout method.
Save YouTube Videos on Google Drive With Google Takeout
Simply Open This Link and It will redirect you to Google Takeout Page.
Scroll Down a Little bit and you'll see an option for Next, Just Like Below Screenshot.
Now it'll ask you to Select File Format, Simply Select Zip from here and Select "Add to Drive" option from there and click Create Archive option.
Now it will start Uploading your YouTube Videos on Google Drive, Just Like Below picture.
Now After Few Minutes, Select the option of Open in Drive from here and it will redirect you to the Google Drive link with your YouTube Videos.
And you are done, now you can manage all your YouTube videos from here. This will do the job; you can share the link with others by selecting share option from the top right corner or download it on your PC or do anything which you want.
Conclusion
This was the way which you can use for Save your YouTube videos to Google Drive easily. If you have any more questions or suggestions regarding this guide then simply comment below, I will try to help you out.
Thanks for visiting and stay tuned for more cool stuff like this. If you have any more cool tricks like this, then Please comment below I will try to check it out and post in this blog, Stay tuned and keep visiting our Site SoftBigs.com