Resume Failed Download in Mozilla
Hey Guys, In This Tutorial I will tell you about how can you resume failed / broken download in Mozilla Firefox on PC. For example, you are downloading some important files on your PC via Mozilla Firefox browser, and you have limited Bandwith. After downloading some part of the file, it stops downloading it what you can do in this case? Will you have to start downloading again from the start? Or anything else!! Don't worry, I have one simple trick here for you, which you can follow for resume failed Download in Mozilla firebox on your PC. Previously, I was also posted a tutorial on how to increase download speed in IDM. But If you are still using Mozilla Firefox for downloading files from your PC, and it failed downloading, and you want to resume downloading then follow below easy steps for this purpose.
Sometimes, We try to download files via Mozilla Browser and stuck downloading and at last it stops downloading it. There are many reasons for download failure. Your download may fail because of the weak network, suddenly turn off PC, server issues from the server side, etc. It's a Very Irritating thing when download fails while downloading something. There is one option for resume downloading in Mozilla Firefox, but Sometimes due to download link expire, it will be unable to resume the download. So If you want to resume download, that specific download link must be updated from downloads, which is not possible as of now in Mozilla. So here we will use a little trick, for resume download in Mozilla which I have mentioned below. Also, have a look at How to download big file in memory card on android.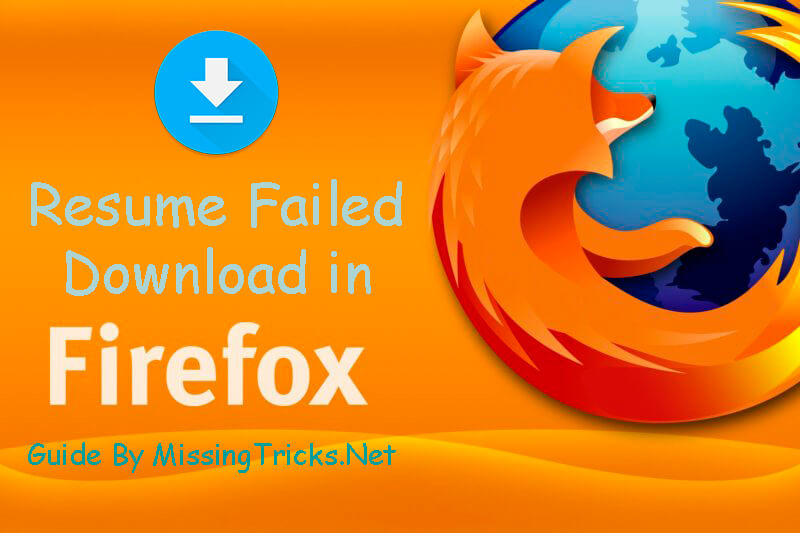 There are many good download managers are available for download files like IDM Portable, which you can use in your PC. But Sometimes we feel lazy and download directly via Mozilla, and ended up by crashing the download and there is no option for update download link in files from Mozilla Firefox. So It's a Bit hard task to resume downloading in Mozilla in PC. One day this thing was happened with me too, so I was tried and searched for the solution. After long research I found the solution, and I am mentioning it below How you can also resume failed / broken downloading in Mozilla via your PC. I Have tried my best to explain this post in easy words, So let's have a look at it now from below. Also have a look at best web browsers for Mac.
How to Resume Failed Downloading in Mozilla Firefox on PC
If you want to resume failed downloading in Mozilla Firefox from your PC, then you have to follow below steps. I will let you know step by step tutorial on how can you resume filed downloading in Mozilla Firefox easily without any trouble. You can ever retry to resume download in Mozilla, but sometimes it simply doesn't resume download cause download link expired on file.
At First, If Download is Broken / Failed in your Mozilla Firefox, Then simply Don't Close browser.
After That, Goto Downloads Folder from your PC, for example in Windows PC download location is normally at C:\Users\Username\Downloads.

You will see File There, Which you was downloading and was broken. For example, Let's Assume ImoSetup.msi download is broken, you will see 2 files in download folder – ImoSetup.msi and ImoSetup.msi.part.

Simply Create a new folder anywhere and move .part file there.
Now Start the same download again in Mozilla from beginning, wait for 10-20 seconds, and pause the download (Make sure you don't close Mozilla)
After that replace ImoSetup.msi.part file with the old file which you was backed up in other folder and go to Mozilla, Hit Resume Button.
Voila!! Your Download will resume from where it was failed.

This is the simple hack which you can use and simply use for resume failed or broken downloading in Mozilla browser. This is the simple trick ever which you can use whenever download fails in Mozilla browser. Moreover, the Same trick like this People using in UC Browser in Android, Which is kind of related to this. This is the one of the best ways to resume download for save your precious data. So Simply Enjoy this simple hack in your PC.
Wrapping Up
So This was the way, which you can use for resume failed / broken downloading in Mozilla Firefox on PC. This Guide will work perfectly on any PC. I have also tested, and it's working great till yet. So Simply enjoy this tutorial, If you are facing any issues while following this guide then drop a comment below, I will try to respond to your query as soon as possible. Thanks for visiting this blog and stay tuned here for more cool stuff like this.