Reliance Free Facebook
Reliance Free Facebook: Hey Guys, Now Reliance is offering Free Facebook for their Users everyday. Previously, i was posted about Reliance Free Facebook Friday offer, now Reliance is offering Free Facebook Everyday. If you use Facebook Daily, and Fed up with recharging Data packs daily, then you must checkout this offer once. Now, you can use Facebook 24*7 for free in Reliance Sim Cards. The Best Thing. is that there is no limit for use Facebook in your Reliance sim card with this offer.
Reliance Free Facebook
This offer is similar to Airtel Wynk app offer, they offers users to download Music for free from Wynk app, and Reliance is offering their user to use free Facebook everyday. You may also came to know about this offer from TV itself, that they are offering free Facebook for Reliance Users. In this post, i will tell you a complete guide, for how can you use Free Facebook in your Reliance Sim card for free. So let's Check it out now. There are 2 ways, which you can use for Get Free Facebook in your Reliance Sim Card. Have a Look at it from below !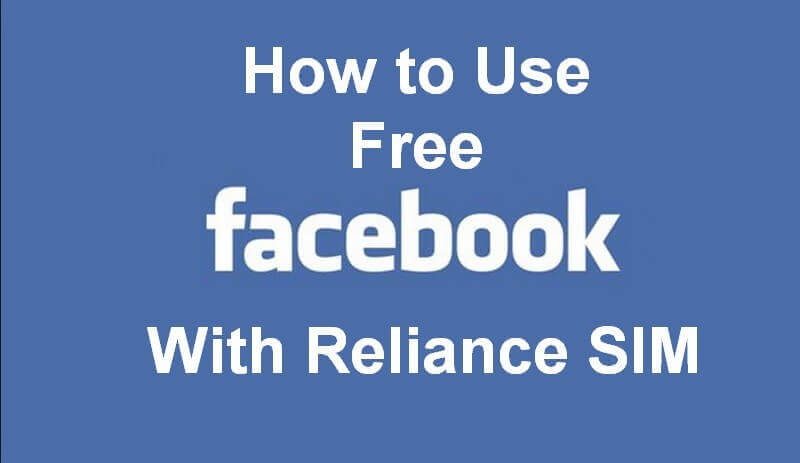 You may Also Like
Requirements for use Free Facebook in Reliance Sim Card
Reliance 2G/3G Sim Card with Internet Supported Mobile Phone
Facebook App or Default Browser or Chrome ( Not UC, Opera etc)
Minimum 20 Paise Balance in your Sim Card.
Working in All Reliance Sim Cards – Reliance GSM (Prepaid and Postpaid) or Reliance CDMA (Prepaid)
How to Use Reliance Free Facebook in Facebook App
At first, Download Facebook app in your Phone from here – Facebook App
Note – Normal Data Charges Will apply for Download the App.
After that, Turn off WiFi, if you are using and Turn on Internet from your Reliance Sim Card.
Open  Facebook app, Then Login with your Facebook account, or sign up if you don't have any ( I am sure you have one)
You will see Free option is Tick by Default, leave it as it is and Continue browsing Facebook for free.
You can send messages via messenger, and see status. but you are not allowed to Download or upload videos, or Images in Free Facebook in Reliance. If you want to do so, then you need to turn off free option, which will you see in top of the app.
How to Use Reliance Free Facebook in Browser
At first, Open Free Facebook Version in your Browser from here.
Login or sign up with your Facebook Account Normally.
Now, You will See, that Facebook Homepage will Open, Continue sending messages and uploading status, like commenting you will not be charges.
Same case like app, you will not be able to see images and videos in free version of Facebook.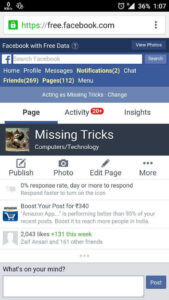 Some Tips While Using Free Facebook in Reliance
If you are Using Android Phone, then you know that Some background Apps will use your data, like Google Play Store etc. So Turn Off Background Data usage in your Phone, for Avoid Balance or Data Deduction Issue.
If you are not using Facebook app, and want to use this offer in browser, then Use Only Default Browser or Google Chrome Browser, for Avail Free Facebook Data offer, if you use Opera Mini Or Uc Browser, then you will be charged for Use Facebook.
Terms & Conditions for Use Free Facebook in Reliance Sim Card
Free Data is available only for Android App Currently, which can be downloaded from Play Store.
For Download Facebook App, Normal Data Charges will apply.
For Use Free Facebook, Minimum 20 Paise Balance is needed in Sim Card, else data will not be connected.
If any Background apps running, then Normal Data charges will apply for Those Apps.
This offer is valid for limited time, They can change offer any time, without any notice.f
Reliance Free Facebook