Hey fellas! In This Tutorial, I will tell you about How to Modify Whatsapp messages in Android Device. Nowadays WhatsApp is used by billions of people and they are using WhatsApp application just because of its newly design and cross-platform, it means WhatsApp is available for all platforms BlackBerry, iPhone, Java, Symbian and Android. In this all Android is the only operating system which has been used by billions of peoples in those billions of people, . If you want to know about how to edit messages in whatsapp? the This Guide is specially for you. WhatsApp is the only application which been used widely around the world and while checking the neutrality of the application many of the users tries to create an application from which they can tweak the WhatsApp. Previously, we was shared how to Enable Whatsapp Chat Heads like Facebook messenger app. When you will search on internet you will find bundles of WhatsApp tweakers from which you can tweak WhatsApp change its design and do other tweaking we have share many articles which shows how can you crash someone's WhatsApp or anything and the same trick we are sharing today in which we are sharing about an application from which you can easily modify the WhatsApp messages which is really a good application. This changes are not server type changes.
Prank Your Friends By Modifying The WhatsApp Messages
There is an application named as WhatsHack from which you can modify the messages of WhatsApp. As I said that this are not server site. That means when  you will be modifying the chats of WhatsApp you are going to modify only your WhatsApp messages and you cannot change it of your friends just because this is server site for changing your friends messages your friend also needs a WhatsHack application. if you want to make some fun with your friends, then checkout How to Send Blank Message in Whatsapp. This Guide is also known as how to change whatsapp message.This application is having several bugs but might be in Future this bugs will be solved by the developers of WhatsHack. This application requires Root Access in your device to modify the WhatsApp chats of your device. When you will send those chats to your friends their reaction will be like when did I send you this message? 😛
how to change whatsapp message – full explanation

When you encounter any bugs you can simply clear the application data and then you can try using the application. If then too you encounter any error you can simply comment below for help and I will surely reply you as soon as possible. Also Checkout How to make Fake Whatsapp Conversation. With this application you can also check who has messaged you on WhatsApp without coming online on WhatsApp and showing blue ticks. You can also change the time of messages of WhatsApp from WhatsHack this application is best with all these good features. Lets check out the advantage and disadvantages of the application. If you don't have Android Device for use Whatsapp, then checkout How to Install Remix OS in PC, then Install Whastapp In Remix OS. in this way, you can also use Whatsapp in your Pc for sure.
Advantages:
You can easily modify the messages on WhatsApp with single click
You can change the time too with WhatsHack with simple trick
You can check the messages of WhatsApp
Disadvantages:
This application crashes a lot which is sometimes irritating a lot
Requires root access in your mobile phone
This application doesn't works on unofficial WhatsApp such as GBwhatsapp or any other kind of WhatsApp
Trouble Shootings Guides While Modify Whatsapp Messages
When this application is crashing a lot you can simply clear the data of the application
When you get an error of data base clear the WhatsHack application data and try again by backing up chat backup
How To Prank Your Friends By Modifying The WhatsApp Messages
Step 1: Download the WhatsHack application from here – Download
Step 2: Now, Open the WhatsApp and go to Settings > Chats and Calls > Chat Backup and backup the WhatsApp chats
Step 3: Now, open the WhatsHack and click on Press Here and start the application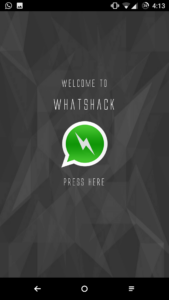 Step 4: Grant the Root access to the application and click on any chat whichever you want to modify it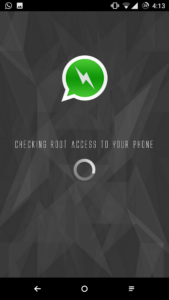 Step 5: You will see the chats of your friends and that too without opening the WhatsApp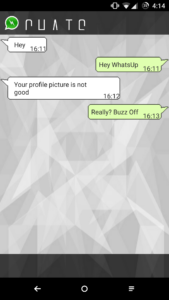 Step 6: Now Click on the chat which you have to modify and click on the Modify button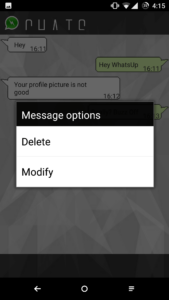 Step 7: Now, modify the chat and if you have to modify the time you can also do that easily by clicking on the chat
Working Proof:
Before edit messages in whatsapp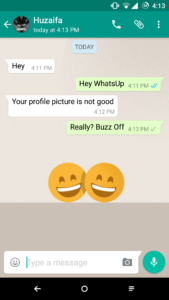 After change whatsapp message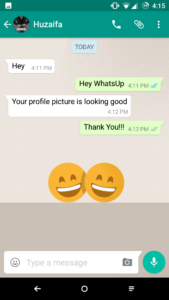 Video Tutorial About How to Change / Modify Whatsapp Chats / Conversation
Final Words:
If you will check out the above screenshot you will see that this WhatsApp is not official one. But it is the official WhatsApp I am using Cyanogen Mod and I have used different theme this is the reason why this WhatsApp is looking different. You can modify the chats of the WhatsApp now and if any issues you can simply comment below and we will surely help you out. Keep visiting for more tricks of Android and Thank You for visiting Missing Tricks