In This Tutorial, I am gonna mention about best iCloud Bypass tools for Bypass iCloud lock on your IOS Device. The Find my iPhone included a feature which automatically locks the phone when you turn on Find my iPhone. This prevents unauthorized access to your iPhone, iPad, iPod Touch or Apple Watch if it is ever stolen or lost. The lock would continue to avoid unauthorized access to your phone even after remotely erasing it. Looking for ways to Bypass the iCloud Activation Lock? You've come to the right place. Here are The 10 Best iCloud Bypass Tools that would make sure you regain access to your phone without stress. These tools are guaranteed to work well to help you permanently avoid and unlock iCloud using iCloud Activation Lock Removal Tool. Let's have a look at all of these tools.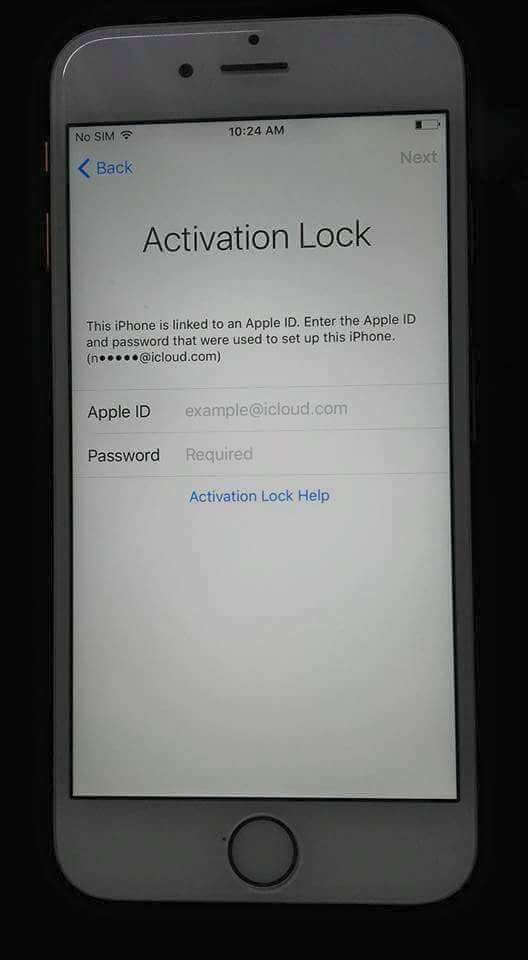 ---
1. iCloudin
iCloudin is a very professional bypass tool that you can use to unlock your Apple device. The central part of this software is that it is 100% free and active on all your iOS devices, thus compatibility is never an issue with this software. Those who have used this tool to bypass the activation lock only have praises for its power. You can search and follow various tutorials on how to use this software. Also have a look at how to bypass Pattern lock on Android.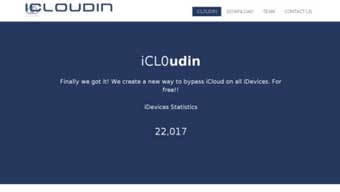 Pros:
100% Free to use.

Easy to understand software application.

Easy to follow tutorials available online.

Compatible with all iOS Devices.
Cons:
The software's website is hard to maneuver and you may have a hard time finding what you're looking for.  

The app does not have much of a rating from the users who have used it in the past, so there may arise a question regarding their credibility and reputation.
---
2. iCloud Activation Bypass Tool
The iCloud Activation Bypass Tool is enough easy to use and works with your device's IMEI number. To use the app simply:
Download and run the application on your computer.

Connect your Apple device to the computer using the device's USB cable.

Allow the software to scan and read your device's IMEI number.

After clicking on on 'Bypass Activation Lock' the software will connect your Apple Device to the Apple servers, and erase every trace of your device from it's linked iCloud Account.

Once the bypass process is completed the iCloud lock will be completely eradicated and iCloud will no longer be required on the device.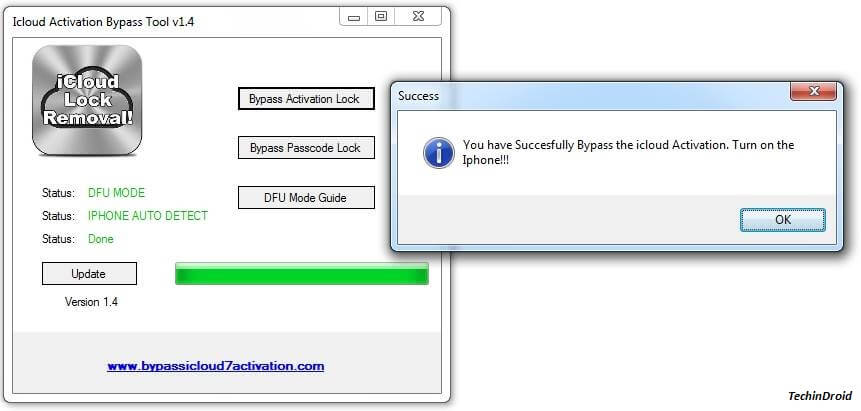 ---
3. iCloud Bypass Tool
There are a lot of tools that can help remove the iCloud activation from your Apple device, but amongst the others the iCloud Activation Bypass Tool cannot be ignored. The professional and functional tool has received warm reception in the Global Mobile Market. Even with a low rating, users of this tool are rather satisfied with this pocket-sized tool. Do check best tools for unlock sim card on mobile phones.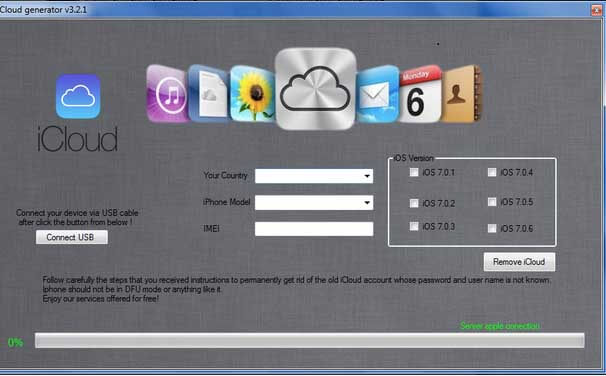 Pros:
Functional and Multi Purpose.

Very high satisfaction amongst users.

Compatible will all Apple devices.
Cons:
Download speed seemed to be an issue amongst it's users.

Regardless of it's functionality, the tool has only garnered a low rating of 3.5.
---
4. Doulci iCloud Removal Tool
Like every other tool mentioned in this article, the Doulci iCloud Removal Tool is also effective for removing the Activation Lock from your Apple device efficiently. All you need to do is follow the online tutorials to make your way with this powerful tool. The tool will allow you to run your own server and bypass iCloud.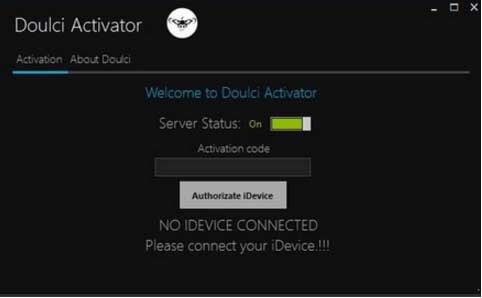 Pros:
Easy to work with.

Compatible with all iOS versions.

100% free to use.

The website gives you access to different tutorials you can use to make your way through this tool.
Cons:
You need to go through a survey in order to be able to download the tool.
---
5. GadgetWide
GadgetWide is nothing different compared to the other tools mentioned in this article. However what makes it different from the other tools in this article is that it is credited for being the best Bypass Tool available. Not only that, this tool also provides online support and tutorials if you get stuck on any topic while using it. Do check how to schedule WhatsApp messages.

Pros:
One of the best and high rated Tool in the market.

100% free to download and use.

Easy to use and efficient application.
Cons:
The Tool requires you to first download it on your computer before you can use it.
---
6. Remove the iCloud Lock Activation Tool
The name itself gives off it's functionality. The tool can be used with ease, and it's website provides immense support and walkthrough on how you can use this tool to benefit you. The best thing is, this tool is 100% free!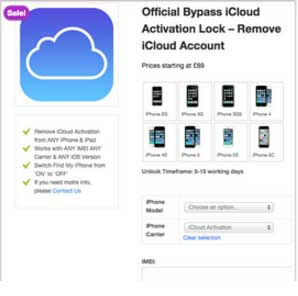 Pros:
100% free.

Easy to download and use.

Website provides walkthrough on how to use the tool.
Cons:
Ratings are not very high compared to the other tools.
---
7. iCloud Activation Bypass Tool
This tool lets you connect directly to the Apple servers to activate iCloud. The tool is comparatively easy to use, all you need to do is download the software and operate it as needed. The tool also comes with it's own support system, in case you get stuck during the process. This tool is gaining immense popularity in the market lately. We were also posted about WiFi kill for IOS, have a look at that too.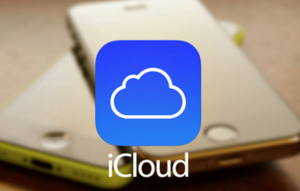 Pros:
Easy to use and download, not to mention it is also 100% free.

Website provides round the clock support for all your issues.
Cons:
This tool is slightly more complicated compared to the others we've seen so far.
---
8. The Official iPhone Unlock Tool
Unlike the other tools mentioned here, the Official iPhone Unlock Tool is more of a service rather than a Tool. The fact that it is a service, the chances of something going wrong while using this service is rather minimal. The service unlocks your phone using the IMEI stored in the Apple database.
Pros:
No complicated software, No cables, No computer- Simple.

It is a professional service run by experienced professionals, so you don't have to worry about the software.

Rated and praised highly by those who have used the service.
Cons:
The service is not free and comes at a hefty price of $19.95 or 1,293 INR.  
---
9. Open My iCloud
Open My iCloud is a saviour in disguise. The tool allows you to unlock or bypass iCloud with a single click. It offers a simple and easy to understand user interface for all Apple device users. If you follow the steps as instructed you can unlock and bypass your iCloud in under 10 minutes.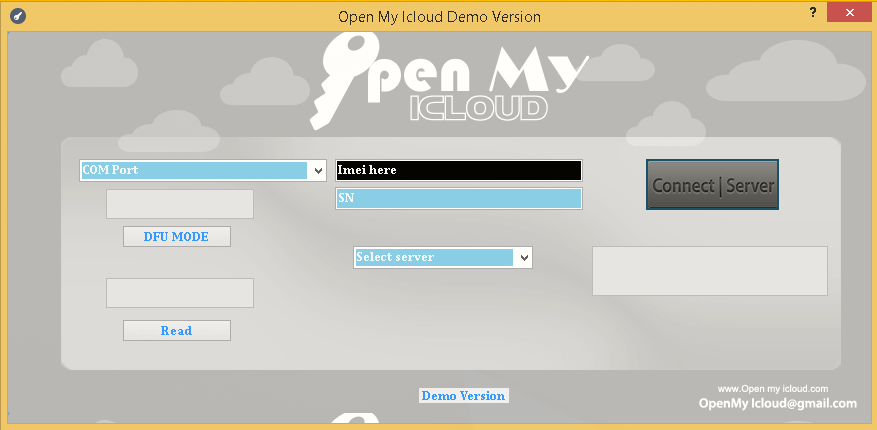 Pros:
Get's the work done in under 10 minutes.

Compatible will all Apple devices and versions.

Allows unlocking of phone using the IMEI number.
Cons:
The only shortcoming of this software is that it comes exclusively a Windows download.
---
10. Bypass iCloud  Activation via DNS
Apart from using the above mentioned, you can use the DNS to bypass the iCloud Activation. However the process requires you to have appropriate details of the owner to which the phone belongs. Follow the following steps for this process: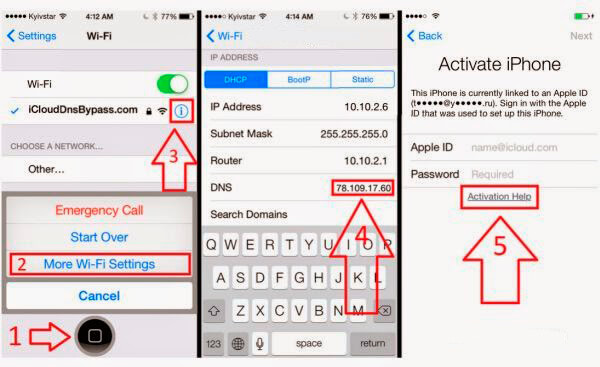 Enter the new DNS server as 78.109.17.60

Tap Back, followed by done, press on 'Activation help' to continue.

You'll receive a message saying that you have successfully connected to the server.

Tap on the 'Menu' on the top right.

You will find a list of applications such as YouTube, Mail, Maps etc.

Select the appropriate application that will give you the information about the owner.
Once the information is matched, you can easily bypass the iCloud Activation.
Pros:
Does not require any additional software or tools

100% free.

Compatible on all iOS devices.
Cons:
Complicated process.

Requires you to know details about the previous owner.

Not practical.
---
Must See – Best Call Recording Apps for Android.
Conclusion
These were some of the best iCloud bypass tools which you could use on your device for bypass iCloud lock. If you have some issues while using these tools, then let us know via comments below. We'll try to help you out. Stay tuned at MissingTricks for more cool best tools collection like this.