Hey Guys, Previously i was shared post about How to use 2 Whatsapp accounts in one android phone, but now i am sharing Method for how to use 1 whatsapp account in 2 mobile. I was getting lots of Requests from our users, that they wants to use 1 Whatsapp Account in 2 Android Phones, so i am sharing this method. you will not get this method in any other site, because this method is fully invented by me.
I was Searched a Lot on Google, that there Must be any method for how to use whatsapp on two devices with the same number, but i didn't Found any Helpful Guide. so here, i will be sharing a Latest Method, which you can check for using 1 Whatsapp account in 2 Android Phones. So Checkout this Guide from below & Let's Try it out.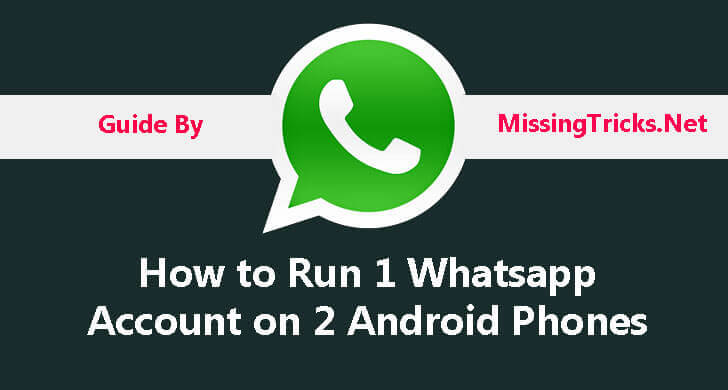 Requirements Before Use This Guide
Rooted Android Phone (Most Important) . Also checkout – Root Android Phone Without Computer
Titanium Backup Apk – Download Now
Normal Whatsapp or Any other Whatsapp like Whatsmapp or Whatsapp + or Ogwhatsapp etc, whatever version you use.
Working Internet Connection.
Features of This Guide
Working Awesomely, no issues at All.
Can Send Messages from Both Android Phones.
Also See – Whatsapp Chat Heads.
How to Use 1 WhatsApp Account on 2 Android Phones
We are going to share method below which you can use for Using 1 WhatsApp account on 2 Android phones easily. So let's have a look at step by step tutorial from below.
Download Dual Accounts app from Play Store – Download
Now Open WhatsApp from your one Android phone, which account you want to use on 2 Phones.
Click menu, select WhatsApp Web option.
Now Open Whatscan app on your Second Android phone, you will see qr code in the app.
Scan QR Code from WhatsApp to Whatscan app.
That's it, your WhatsApp account will not logged in successfully on your 2nd Android phone.
---
# Method 2 (Not Recommended)
Some Bad Things About This Guide
If you want to receive SMS, then it will receive SMS in only one phone randomly, you can't read Messages from Both Android Phones, Sometimes message delivers on both phones, & sometimes only on Single Phone.
How To Install & Use One Whatsapp Account on Two Phones
At First, Make Sure you have rooted android Phone, & Titanium Backup app Installed in your Both Phone, If you have these 2 Things Ready, Then you can proceed to next steps
Make Sure, you have Already Installed Whatsapp account on Both Android Phones already, & Logged in with account in one phone, which you want to use on 2 Phones.
Then, Open Titanium Backup app from your App Drawer, Click on Search Button & Type Whatsapp in it.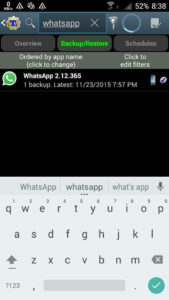 Now, After that it will show you results ion list, Just Click on Whatsapp from here & proceed to next steps.
Now, Click on Backup option from here, because it needs to backup your Data & It will take some time about 30 seconds maximum, depend on Phone's performance.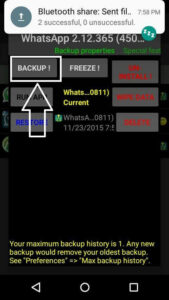 Now, Goto File manager, Open Titanium Backup folder, which will be in your Memory card or internal memory (Depend on phone)
Now, You will see some files here, Look at the file names, which starts from name – com.whatsapp
there will be 3 files, Now Transfer those 3 Files in Another phone, in which want to Install same Whatsapp
Note – you can transfer files via Bluetooth in 2 phones.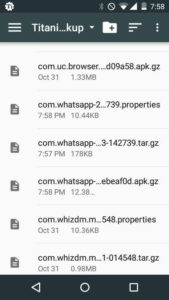 Make Sure, you Copied those 3 files into Titanium Backup folder in another phone
Open Titanium Backup app on 2nd phone, & search for Whatsapp & Click on it (Make sure you have already installed whatsapp in your 2nd Phone)
Now, Click on Restore Option & Select App + Data method, or select only data restore, here i am using only data restore method.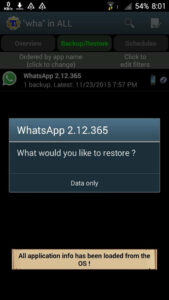 Note – If you are using only data restore method , then make sure you have same version of whatsapp installed on both of the Devices
Now, Just After Restore Data, Open Whatsapp in 2nd Phone & Boom ! It will open your Whatsapp account, which you was using on your First Phone.
Final Words
So guys, this was the easy Guide for Use one whatsapp account in two mobile with Rooted android Phone. Rooted android Phone is much powerful rather than non rooted phones. also checkout Top apps for rooted android phones, for make your Phone more better. So guys, if you have any other confusion, while using this Guide then feel free to comment below. Thanks for visiting & keep visit here for get more cool Tricks Like this 😀