best sms hider for android
Hey fellas! In This Post, i will tell you about secret text message app, in which you can Hide Text Messages in your Android Device Easily. Nowadays messages are used for transmitting the most important information and sometimes this messages are used for transmitting banking messages and to know your account information and other important things. So to keep those messages in private and to hide this messages is important and most of times our mobile phone is used by our family members, relative our friends and others persons. Also checkout How  to Flash Custom ROM in Android. Sometimes we don't like when someone looks at our private messages so to secure those messages are very important. There are many applications which provides locking of messages no doubt but this application is having some good features and there are many application which fails to properly save our data and this thing is been hated by us. This application are easily being force closed by anyone. This force close option makes the application of no use and anyone can open those messages. But this application is different which cannot be force closed by anyone. Checkout Full Guide on How to hide sms on android from below.
How To Hide Messages On Android And Keep It Private
Message lock is the application which locks our messages and at the same time it suggest us the applications which will be automatically locked by message lock. This application locks all the messenger application which are available in your mobile phone. Which are Hangouts, Messenger, True Messenger, Facebook Messenger, and WhatsApp. When you will add some extra security this application it will also lock down application such as Play Store, Settings so that no one can uninstall this application. Whenever you will receive any message this application will ask for lock password and you cannot uninstall this application which is really very good feature. Also Check How to Install one app Twice on Android. When you will forget the password then you can easily recover this password by going into forgot password and the authorized code will be send to your registered email address. Other applications doesn't works on notification area and this application easily works when you get notifications.
Advantages of using SMS Hider app
[sociallocker id=15180]
— This application is having good user interface
— This application locks every application which is having feature of sending and receiving messages
— Application also lock down when you receive new messages in notification area
— It is also having feature of locking your WhatsApp messenger
— You cannot easily uninstall this application it requires pattern lock for lock down
— No annoying Google ads in this application
— No Root access required
[/sociallocker]
Disadvantages of using Message Hider app

Only pattern lock is available you cannot choose pin lock or password
This application blocks notification also sometimes it might be little bit irritating to unlock password again and again
Checkout Step by Step Guide about how to lock messages on android phone now from below.
How To Hide Messages On Android And Keep It Private
Step 1: Download and Install Message Lock application from here – Play Store
Step 2: Open the application and Click on OFF to Switch On the application
Step 3: Draw the password and re-enter the password and save it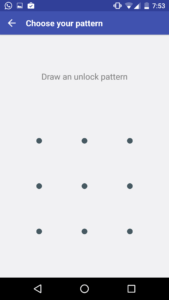 Step 4: Enter your recovery email address so that when you will forget your password you can easily recover it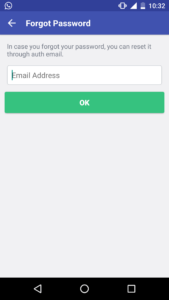 Step 5: Enable Message Lock Application by clicking on OK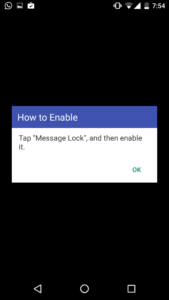 Step 6: Now, switch on Message lock application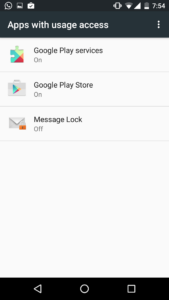 Step 7: Permit the application usage access and switch it on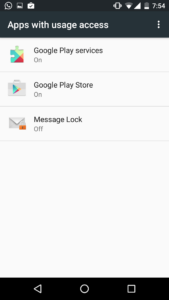 Step 8: You have done all the steps correctly and now its time to add some extra security in your application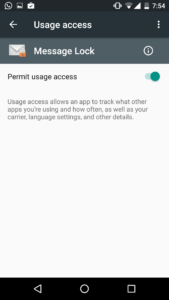 How To Save Message Lock From Getting Uninstall And Force Stop
Step 1: Click on settings located in top right section of your screen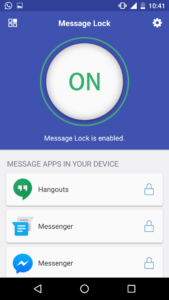 Step 2: Now, Click on Self Protection given below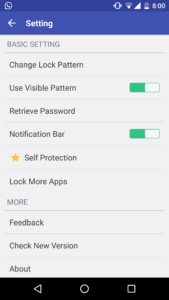 Step 3: Turn On All the options given in the Self Protection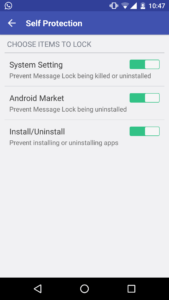 Final Words:
Now, you can easily hide your messages by adding some extra security in your mobile phone and now no one can access your private data without your permission. Thank you for visiting and keep visiting for daily new Android tricks and updates 🙂