Facebook chat without messenger
Hey, Fellas! In This Guide, I will tell you about how to chat on Facebook without messenger app in your android device. You might be using the Facebook application in which you would be seeing that Facebook usually Facebook suggests application to you for example Facebook Messenger to chat with your friends. If you have pages then you can download pages manager, or if you have groups then you can download Facebook groups this application works in Facebook application. Also Checkout Facebook Social Toolkit, Which you can use in your PC for Using various Facebook Tweaks.
I read somewhere in Flipboard where there was an article written in which it was written that Play store is going to remove Facebook application just because of its installation time and consuming a high amount of RAM is your mobile. According to me in my Nexus 5 Messenger eats 70 MB of RAM and Facebook uses around 100 to 150 MB RAM which is too bad. Also Checkout How to Flash Custom ROM in Android. To overcome on this, I tried to google search for some application which can easily replace messenger so that you can easily enable chat through your friends using Facebook application.
How to use Facebook Chat Without Messenger
This Application is known as Facebook Chat Enabler in this application when you will open this application it will have a skull icon. Don't get afraid it is safe and it won't check your conversation or anything. Then after opening this application. You have to download a package it would be of around 1 MB or less. After that, you can delete that app which you have downloaded without any issues. Also, check out How to Install One app Twice on Android Device. When I downloaded this application, it was not working in the latest version of Android that is 6.0 and 6.0.1. This application supported in devices which are below 6.0.
Facebook chat enabler installs a package of messenger which let the Facebook app to think that Facebook Messenger was already installed but the user is using other Facebook account from that, and you don't have to delete the latest application which has installed in your mobile by using Facebook chat enabler. Also check out How to Take Screenshot In Recovery Mode From Android Device. Whenever you will try to open that application it will throw an error of force stop or application error. Don't uninstall this application or else Facebook will again ask for messenger again.
Advantages of  Using Facebook App Without Messenger
This app have some killer features, which will save your device's ram because you will never need to install messenger app again in your device, it will save more ram, battery and speed up your device. Now Simply Enjoy Facebook App Without install the messenger. Have a look at some of the common features of this app now from below.
The application size is low so you don't need big amount of data
This application doesn't consumes much ram in your device because it will save your device from installing messenger ram, so your device will also work faster. Also checkout how to increase ram in Android which I was posted earlier.
Working in Android 5.0+ Devices. (Also working on Marshmallow)
Doesn't requires Root access.
All Features of Messenger App Included in This app.
Disadvantages of Using Facebook App Without Messenger
This app have some bad points, which I have mentioned below. have a look at them.
You can not Use Calling Feature With this app.
Can not accept messages requests from this app.
and some other minor bugs.
Requirements Before Use Facebook App For Chat With Friends
Uninstall Facebook app + Messenger app from your Phone If you have installed already.
Android Device Running on 5.0+
How to use Facebook Chat Without Messenger App in Android
So here are the Some Steps, which you have to follow now for enjoy Messages in your Facebook App Right now without installing Facebook messenger which Facebook Force their users to do so, so check out the easy steps now from below.
At First, Download and Install Modded Facebook App from above Download link and Install it in your device.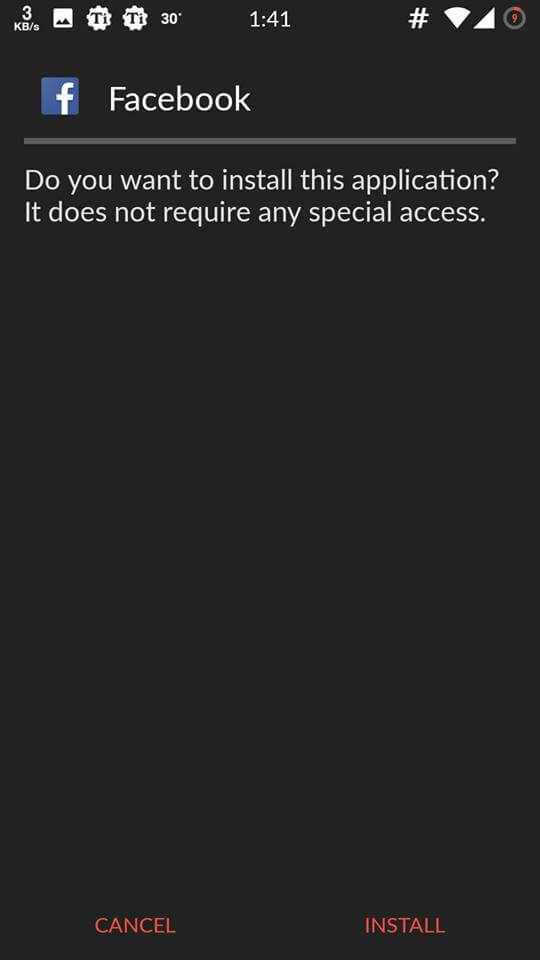 Then After Install this app, Now Open it and login with your Facebook Account.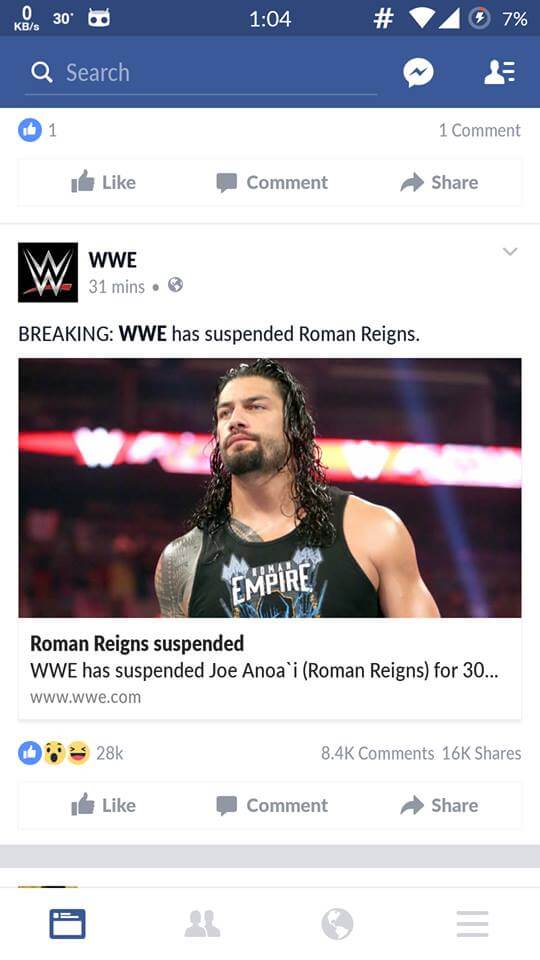 And you are done, Now you will be able to chat with your friends with the help of Facebook app without installing messenger, enjoy it!
Quick Fix For Marshmallow
If this app is crashing then allow permissions to this app from App Settings. If you have Android Device running on marshmallow then you simply have to allow this app to take permissions manually. Follow below steps for allow this app permissions and enjoy it in your device and chat with your friends without using messenger app.
Simply Goto Settings – Apps – Facebook – Permissions, and Tick on All Permissions.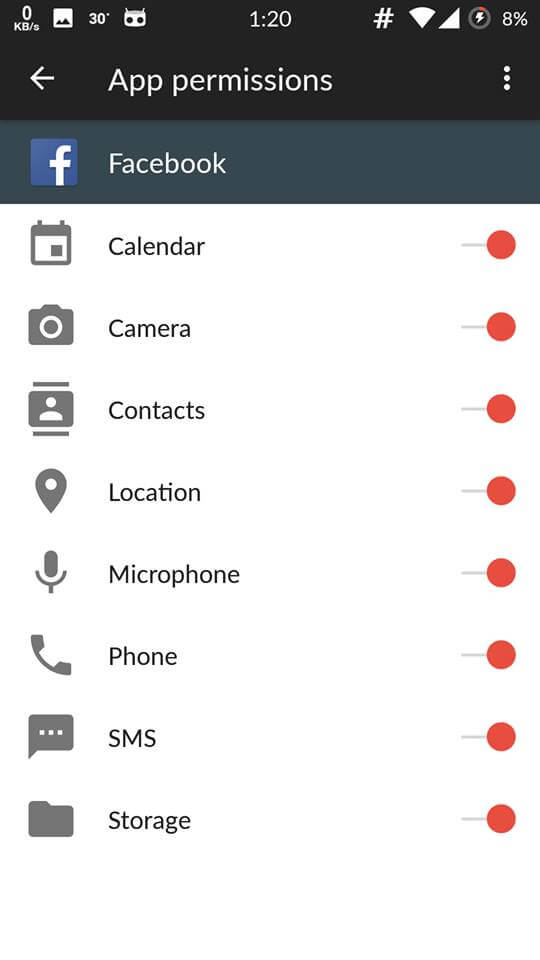 Old Method for Use Facebook App Without Messenger
If you have any issues with first method, then you can try this method for use the Facebook app in your device without Messenger. Simply Follow all step by step guide with screenshots from below for quickly use Facebook app without messenger in your android device.
Step 1: Download and install all the Facebook Chat Enabler app from here – Download
Step 2: Login to your Facebook account using Facebook application
Step 3: Open the Facebook Chat Enabler and click on Install button given in left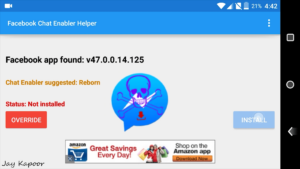 Step 4: It will download the another package from the application which will be less than 1 MB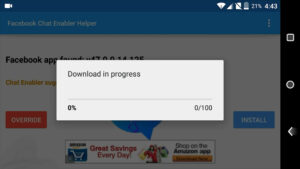 Step 5: Uninstall Facebook Chat Enabler with the icon of skull because now it is of no use.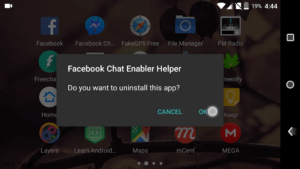 Step 6: Now, Use the Facebook application and you can chat with your friends without installing messenger and don't update the messenger which is available on Play Store or else it will be of no use
Final Words:
Now, You can chat with your friends without any software and without root access. Most of times this kind of software are not available for non rooted mobile phones. I Hope this how to use facebook chat without messenger app worked for you. Also Check How to Flash Custom Recovery in Android With Flashify App. This was the article about How To Bypass Installing Facebook Messenger While Using Facebook keep visiting and stay tuned for more tricks like this and Thank You for visiting.