Create Unlimited Facebook Accounts
Now you can Create Unlimited Facebook Accounts without new numbers, as you know Facebook security is very high, if you create multiple Facebook accounts, then it will start asking for mobile numbers verification codes, but if you don't have more mobile numbers, and you want to create unlimited multiple Facebook accounts for use in Recharge tricks Like Gaana app etc, then you must check this trick for creating unlimited Facebook accounts without new numbers or Gmail accounts. For use this trick, you just need a rooted android mobile phone with Donkey Guard app installed in your Phone. If you want links of these apps then you can search on Google and easily you will get these apps.
In This Guide We will Be Talking About?
How to Create Unlimited Facebook Accounts Without Phone Number Verification.
Previous i was posted about Change Facebook Password without Current Password. Facebook security is much high, it ask for mobile number verification while creating Facebook accounts because it detects mobile's identify from Device Id. Imei etc. So in this post you'll get info about how to Snoof Facebook and Create Multiple Facebook Accounts without using new Numbers or Gmail accounts, you can use any Temporary mail sites, a site is also given below. So follow Below easy steps for Create Multiple/Unlimited Facebook accounts without mobile number verification.
Purposes for Create Multiple Facebook Accounts
There could be several reasons, that why you need multiple Facebook Accounts. For Example, I have mentioned Some of the main reasons below for creating FB Accounts.
For Advertise your Blog in Different groups.
Use in Recharge apps like Gaana.
and Much more reasons, if you are reading this post then i think you have.
Steps for Create Unlimited/Multiple Facebook Accounts without New Numbers
So Guys, Simply Follow these below easy steps right now for creating multiple Facebook Accounts from one device easily without any blocking or ban issues.
At First Open Opera Mini Browser, install from play store if you haven't installed it already
After Opening Opera Mini browser, now open http://m.facebook.com/
Click on Create New Account Button
Enter any Random Name, Date Of Birth, Choose Gender as Female
Now Open This Temporary Email Site – http://temp-mail.org/option/change
Choose any Name and you Will get new Email instantly, enter that Email in Facebook Sign up Page, enter any Password and Click on Sign Up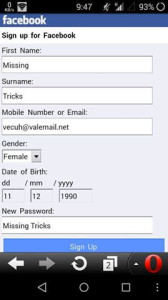 Now you will get Verification Code in Temporary Email Site, check email address
Enter that Code in Facebook Page and you will get your First Account
For Create Multiple/Unlimited Facebook Accounts:-
So With above steps, you can create one Facebook Account in your device, for create unlimited number of facebook accounts from your single device, simply follow below easy steps.
Clear Data of Opera Mini Browser from Settings – Apps – opera mini – clear data.
Open Donkeyguard Android app and change values of opera mini like Imei, Device id. Or you can also use apps like xprivacy, device emulator which I have posted earlier, must check them out.
Now Change your Android Id With This Guide – Android Id Change Guide
After Successfully Change Android Id, Reconnect your Internet Connection (This will change your Ip)
and Repeat Above Process again and again and Enter New Temporary Mail
You can create Unlimited Facebook Accounts in this way as much as you want
Final Words
So guys, this was my easy Guide for Creating Multiple/Unlimited Facebook Accounts without Verifying new numbers, if you have any problem, while using this trick then you can feel free to comment below, i will help you as soon as possible. Multiple Facebook accounts can be used at recharge apps for getting unlimited recharge in apps like Gaana app. Temporary Email sites can be use for create anonymous email account. So Enjoy this awesome trick and keep visiting here for more tricks like this.