Android boot animations changer: As you know, Android Is the best operating system for smartphones, we all love android because it provides a lot of options for customization and tweaks to play with it . Customization made android best among all other operating systems for the smartphones. If you want to change startup animation in your android device, then you are at Right Place. Also See How to Customize Android Phone with Gravity Box App. I will Guide you about How can You Easily Change Boot Animation from your Rooted Android Device. We can even flash new custom ROMs on our android devices to change the whole system of the phone. After rooting your android you can open the door of countless customizations. If you are new to rooting and this kind of stuff ,then get some knowledge of it before playing with your phone.
Android Boot Animation Changer
You can tweak and customize any thing in android, from changing font to changing the launcher. Android will allow you to customize everything , you can even change the icons of your android phone. In this post we will show you how can you change to boot animation of your android smartphone. Also Have a look at Best Whatsapp Tricks, For Use Whatsapp like a Pro. Every android smartphone comes with the default boot animation of their phone's company or the OS default boot animation. But we don't like to see same thing again and again & on android where we can change and customize every thing, we just can't live with the same boot animation forever. Follow how to change boot animation android easy guide with step by step procedure.
How to Change Boot Animation Android
So if you also don't like the default boot animation of your android smartphone & want to change it but don't know how to change it then don't worry now , we will show you how can you change the boot animation of your android smartphone. You have to custom boot animation android download from below link in XDA, and copy in specific location of System, where Boot animation is located. Then it will load a new boot animation in your phone. Below, is the method for changing boot animation in android without root with boot animations unlocked apk. Checkout this method once in your device, if not worked then try second method. Also Check How to Add Recycle Bin in Android.
Note :- If your device is not rooted then please don't follow below steps , See – [sociallocker id=15180] How to Root Android Without PC
[/sociallocker]
How To Change Boot Animation On Android Device

There are several Methods for changing boot animations in android devices, we are sharing some super cool and easy methods, which you can use for change boot animation in your android phone easily in just few clicks. First method is ES File Explorer method, and another method is Changing boot animation with the help of Boot Animation changer app. We have shared both of the methods, have a look at the both of the ways now from below.
Quick Look At This Guide
---
#1 Change Boot Animation With ES File Explorer App

This method is based on How to change boot animation in Android with the help of Simple ES File Explorer app. you have to replace boot animation files from your Android system files, follow step by step guide now from below.
You need to download a root explorer on your android phone, we recommend you to download ES File Explorer.
Download : ES File Explore
Now install the download ES File Explorer in your Phone, from above link, and Open It. Then Click on Top Left Corner, and Select Option of Root Explorer. Then Simply Allow Root Permissions.
Now go to system > media folder and rename the bootanimation.zip  to whatever you want.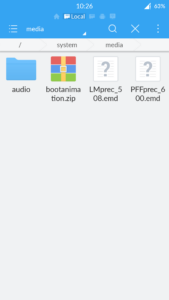 Now download any boot animation which you want to set your new boot animation. You can find and download boot animations from android bootanimation xda or simply search on Google about boot animation zip file for android to find a cool boot animation for your device.
Now move the downloaded boot animation to android bootanimation location system>media where you renamed the default boot animation.
Now reboot your device, and you will see new animation will load in your device.
You're done ! now you will see the new boot animation, if it's not changed, then try method 2 from below. So Checkout this Alternate Method for change boot animation in android without android bootanimation zip file, directly with the help of Software.
Must try – How to Enable Whatsapp Chat Heads for Android.
#2 Alternate Method for Change Boot Animation in Android
In this method you have to install Boot Animations Root App, You can download the app from Google play store or simply download from below link (boot animation apk)
boot animation changer apk download – Boot Animations Root App
Now open the app, you will find 3 option there : Local , server & randomize.
Now click on server & select the boot animation which you want to download , it will automatically download & install the selected boot animation.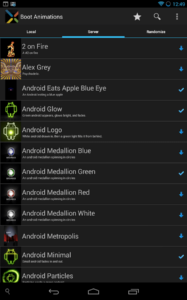 Now your boot animation is changed , you can reboot your device to check the effect.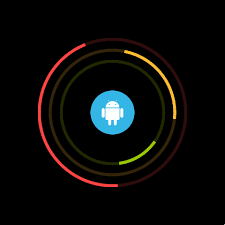 Final Words
This is how you can change the boot animations of your android smartphone, we showed you very easy and simple steps to change the boot animation of your android phone without any kind of risk, still if you face any kind of issues during the process then comment below I will try to help you. Hope it helps, Stay tuned here for more cool stuffs like this. Also have a look at Greenify Tutorial for stop background apps and speed up your device. Thanks for visiting.