android change my font
Android fonts changer: Hey guys whats up so many of time we see that having a Vanilla OS in mobile. So most of time we don't like the fonts, which we use in android.  you may also like my easy guide for root android mobile phone without pc. In Samsung mobile we can change the font but we can't do it in android mobile like Micromax, Karbonn etc. Because Samsung have inbuilt font changer. But in other phones, there is no option to change font. So if you wanna change your Fonts, Then this guide is made for you.
 change android fonts
Personally , Mostly i like cool jazz fonts and guys i would like to help u in 2 apps in which both the apps changes the fonts and both the apps are having different function of changing handwriting. Both the apps required ROOT permission but the only thing is that u can install your fonts in one app and in 2nd application you can install what handwritting u want to install they will suggest you to download
How to Change Fonts in your Android Mobile Phone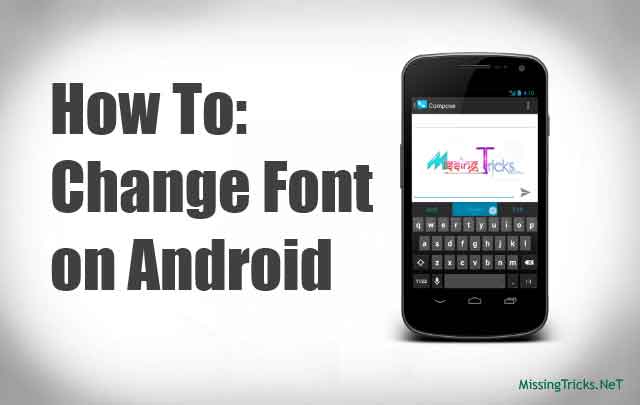 ---
best android font app
HIFONT– This application will help you install the handwriting which you can download from the application and when you will open the application it will ask for the root permission and now u can select any handwriting this application is updated regularly and you will always get the updates of the handwriting whenever there will be new fonts will available in the Market so u can directly download the app and simply you can get the updates and the thing which we love about this app this app is available in Google Play Store.
---
Font Installer– This application is also available in Google Play Store but there is not much handwriting available in this app and there some of which u can install and use it in this app u can install the handwriting available in .ttf format for example if m having a file named as cool jazz.ttf so i can simply install the handwriting from the application just go to local and install your favorite handwriting as shown below.
---
How To Use these applications for change Fonts in Android Mobile
Install any one Application of your Choice From above links.
Grant the root permission of the app
 Now Select any Font which ever u wanna select
 Download the font and reboot your mobile
 You can see the changes.
---
Conclusion
Changing fonts in your Android Phone will give you a new look & feel. This Guide is for rooted mobile phones only. So before following this guide, make sure your mobile phone is rooted. So have a look & Enjoy new feel in your Android Mobile Phone.
you may also like