Hey Guys, If you are looking for a way to bypass phone number (SMS) or Call verification in any Website or app, then you must read this Post. When you Sign up in any Website, If it asks for Phone number, and then asks for OTP (One time password) , and you don't want to provide your real number to them for some reasons, then simply you can checkout full method for bypassing OTP Verification in any kind of Website. Also have a look at Indian Disposable Phone numbers List. We have shared the list of Best Websites, In Which you can Skip Phone Number verification for free without paying even single rupee to them.
Bypass OTP Verification in any Website / App
For Some reasons, If you don't like to enter your phone number in Website, But it's forcing to you to enter your number with OTP Code, then you can simply use these Online OTP Bypass Websites, Who provides Disposable phone numbers from various Country Numbers. You May have already hear about Disposable Emails, But These days due to increasing number of users in Internet, New Services are coming. Now, Online Number Verification Websites are here for bypassing SMS verification, have a look at full steps now from below for know more about it.
Must Read – How to Bypass Fileice Survey.
List of The Websites Who Provides Online Phone Number Verification (28 Sites)
[sociallocker id=15180]
http://receivesmsonline.me
https://www.proovl.com/numbers
http://www.esendex.com.au/send-sms-online
https://sms-online.co
http://receive-sms-online.com
http://receivesmsonline.eu
http://freereceivesmsonline.com
http://www.e-receivesms.com
http://receive-sms.com
https://www.receivesmsonline.net
http://receivefreesms.net
http://receivesmsonline.in
http://hs3x.com
http://receive-a-sms.com
http://www.receive-sms-online.info
https://www.textmagic.com/free-tools/receive-free-sms-online
http://www.receive-sms-now.com
http://receivesmsonline.com
http://freesmsverification.com
https://smsreceivefree.com
http://sms.sellaite.com
http://receiveonlinesms.biz
http://getsms.org
http://receivefreesms.com
http://mfreesms.com/receivesms.php
http://www.textlocal.com/receiving-text-messages-online
http://receivesmsverification.com
http://www.virtty.com/en
[/sociallocker]
How to Bypass Phone Number Verification With Above Websites List
We have shared Top Websites who provide disposable phone number above, We have selected https://smsreceivefree.com/ website for example, So have a look at Step by Step Guide.
At First, Open Above Website from your Browser, and Simply Click on any Number of your choice.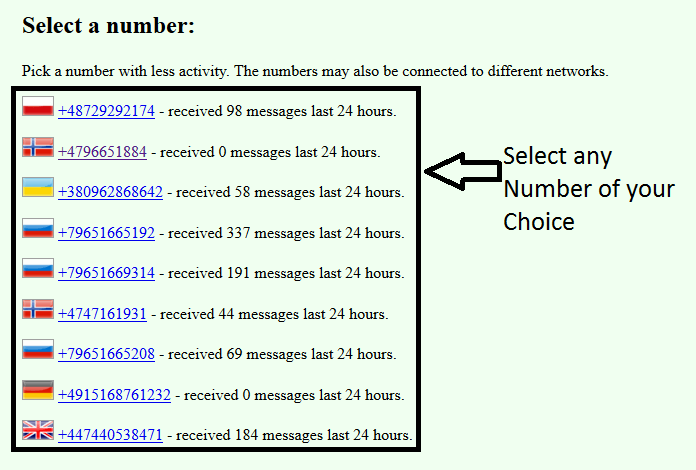 After that Enter number in any app of your choice, For Example i tried to put number in Telegram, and got the verification code instantly.

Now Simply Enter the Code in App / Website and you are done, Your SMS verification will be bypassed without providing your real number.
Final Words
This was the One of the best way ever for bypassing OTP verification, Which is also known as SMS or Phone number verification any website or app. If you have any further questions regarding this Guide, then you can simply comment below, I will try to help you. Thanks for visiting and stay tuned here for more cool stuffs like this.