Bluestack Install Xposed Framework:  Installing Xposed in Bluestack is very difficult, because many cause it cause boot loop, there fore bluestack doesn't start after installing bluestack. Many peoples are facing these issues so i am going to share a easy method for install Xposed framework and it's modules on bluestack. Some pc users don't have Android phones, so they wanna use xposed framework in their bluestack.
also read – How to install Xrivacy App.
Install Bluestack in Xposed Framework

Xposed framework is very good and best app for any android phone or emulator. Xposed framework modules are much popular these days, for snoofing imei in some free recharge apps. so here i am going to share a easy method for install Xposed frameworl on bluestack. Some people try to install it like normally, it install successfully, but after restart, bluestack doesn't start. follow below easy steps for install xposed framework in Bluestack.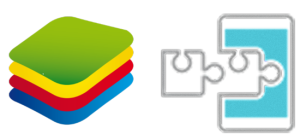 Requirements for Install Xposed Framework on Bluestack
Easy Steps for Installing Xposed Framework in Bluestack Android Emulator
After Installing Bluestack in Your Pc/Laptop, now Install Xposed Framework in It, don't open it
Now Extract Downloaded Xposed Framework apk with 7Z or Winrar Software
Open Extracted Xposed Framework Folder and then Move to assetsx86
rename "app_process_xposed_sdk16" to "app_process"
Drag and Drop/Move renamed "app_process" to Bluestack
Now Install Root Explorer in Bluestack
Open Xposed Framework from Bluestack and Click on Settings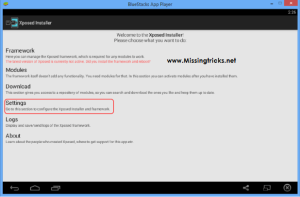 Untick "Enable Downloads" Button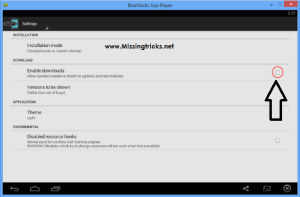 Open Xposed Framework Again and Click on "Framework"
Click on "Install" it will ask for Super su permission, Allow it and it will ask you for reboot, now click on "Cancel"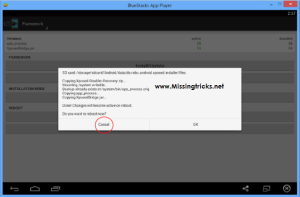 Now Open Root Explorer
Navigate to "/system/bin" folder and Rename Below File names like mentioned below.
Rename "app_process-arm" to "app_process-arm.orig"

Rename "app_process" to "app_process-arm"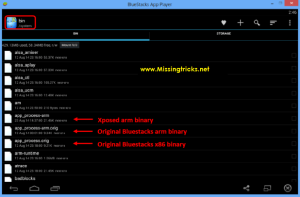 After rename above file names, Now Navigate to /sdcard/windows/BstSharedFolder
Copy "app_process" from /sdcard/windows/BstSharedFolder to /system/bin
After that Long Press on this file, Click on Permissions, Set permissions like below
Now All Files will be look like screenshot below.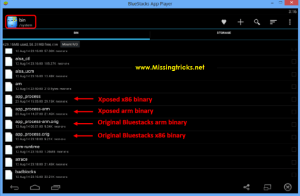 Now all Done, restart your Bluestack and it will be work fine with xposed framework in it.
Click on The Images to Enlarge Them
This was my easy guide for install Bluestack Install Xposed Framework. With this method bluestack will run xposed framework without any errors or issues, if you are facing any errors then feel free to comment below, or if you have any confusion then also you can comment, i will try to help you asap. So install xposed in Bluestack now and enjoy it's modules.
Bluestack Install Xposed Framework