Android Low Battery Notification Ringtone
Hey Guys, In this Guide I will tell you about How can you get low Battery Notification Ringtone in my Android Device. Sometimes, our Android Phone Ran out of battery and We miss out low Battery Notification which is inbuilt in most of the Android Devices. Sometimes, I also Miss out default Low Battery alert in my android phone, and it cause to Switch off my phone sometimes due to low Battery issues. Previously, I Was shared Best Apps for rooted android Check it out. So I thought to post about one app, in which you can set custom notification ringtone when your device is running in low battery.
You can also set Full Battery Notification ringtone with the help of this simple app. Battery, One of the most critical thing in Devices. When Your WiFi or Mobile Data or Hotspot is on, and your device is running out of battery, It will automatically Turn off at 0% battery level. Most of the Android Devices have Inbuilt Battery Notification Tone, But it's not loud enough to hear properly when you are somewhat away from your device. You can also set Random Notification Ringtone in android and get random notification ringtone while your device running on low battery situation.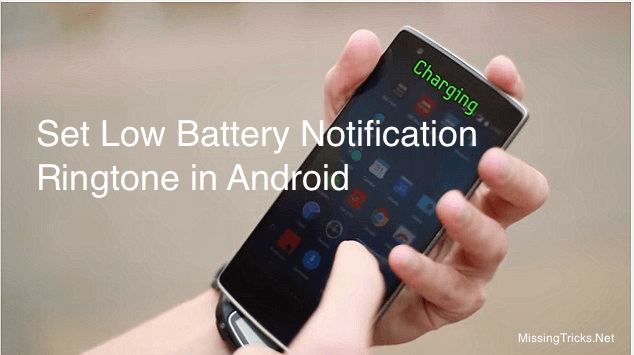 How to Set Low Battery Notification Ringtone in Android
So check out some of the easy  steps now from below, For know more about how can you use this app and set low battery notification alert ringtones in your android device. The app which I have mentioned below, I am also using this app in one of my Android Phone and it works well. I use One of my Android Phone as WiFi Hotspot, So When it runs out of battery this app ring phone and Phone will never turned off due to low battery because We will put phone on charge when phone Rings. So Download this app now from below For know more about this app.
At First, Download and Install Battery Notifier BT Free app in your Phone from here – Download
After Download Above App in your Device, Now Open it Then Click on Settings.
Now Select The option of Low Battery Charge Options from there.
Then Select Low Battery Level of your choice when you want to be get notified, Select Repeat Interval, How often it would Repeat alarm, Select Vibration, Sound Mode, and Notification Ringtone.
After that, When your Device Will reach the Battery level you selected, it will ring your phone and you will be get notified that your Phone's Battery is Low and you have to charge your Phone Now.
Final Words
So Guys, This was the way for setting up low battery notification ringtone in Android. If you have more questions or Suggestions regarding this blog then simply Comment Below, I will try to help you out. Thanks for visiting and Stay tuned for more cool stuffs related to Android & Tech, Peace Out.